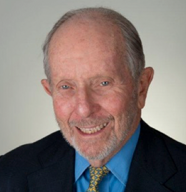 Norman M. Hinerfeld

Larchmont, New York
Arbitrator & Mediator
ARBITRATION & MEDIATION EXPERIENCE
Active Arbitrator and Mediator since 1968. Former Chairman of the Board and the former Chairman of the Executive Committee of the American Arbitration Association (AAA).
BUSINESS EXPERIENCE
Kayser-Roth Corporation-Co-Founder, President, Chair of Executive Committee.
Billion Dollar Manufacturer of Clothing and Textiles. Twenty eight Branded and Private Label Divisions. 30,000 Employees. 120 Factories in 20 Countries. 60 Retail Stores.
CareAnyWare, Inc.
Co-Founder and Chairman- Provider of Clinical and Management Systems over the Internet to Home Healthcare Agencies and Hospices.
Miltons Distributing Company
Co-Founder- Beverage Distributor.
Thermacon Industries
Equipment Manufacturer for the Petroleum Industry and Waste Water Treatment Plants.
Real Estate Developer and Investor since 1960.
Goldman Sachs
Associate in the Underwriting Department.
Supermarkets General, Inc.
Director, Pathmark Stores
United States Army
First Lieutenant Army Finance Corps.
NON-PROFIT ASSOCIATIONS EXPERIENCE
Animal Medical Center, New York City – Finance Chair, Trustee
Jewish Board of Family & Childrens Services – Finance Chair, Trustee
Business Executives For National Security – Director, Regional Chair
New York University Business School – Trustee
US Chamber of Commerce-Chair Export Policy Committee
Japan-United States Economic Policy Committee ("The Wise Men") – Member.
EDUCATION
Harvard College-B.A.-Magna Cum Laude; Phi Beta Kappa.
Harvard Business School-M.B.A. with High Distinction.