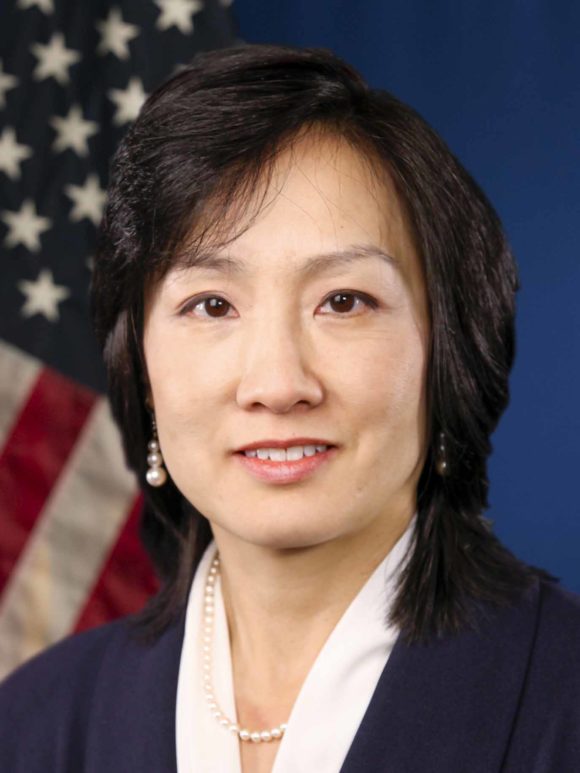 Honorable Michelle K. Lee

Silicon Valley
Former Under Secretary Commerce for Intellectual Property and Director of the U.S. Patent and Trademark Office
The Honorable Michelle K. Lee served as the Under Secretary of Commerce for Intellectual Property and Director of the U.S. Patent and Trademark Office (USPTO) from 2015 to 2017. Ms. Lee was appointed by President Obama and unanimously confirmed by the U.S. Senate. She served as the principal advisor to the President, through the Secretary of Commerce, on domestic and international intellectual property matters, and as a trial judge on the USPTO's Patent Trial and Appeal Board, an administrative tribunal that resolves certain patent disputes.
During Ms. Lee's 3.5 year tenure as head of the USPTO, she and her team helped achieve the passage of the Defend Trade Secrets Act of 2016, and handled numerous intellectual property and administrative law matters before the U.S. Court of Appeals for the Federal Circuit and the U.S. Supreme Court.  Ms. Lee has also testified before Congress (the House and Senate Judiciary Committees) multiple times based upon her expertise on intellectual property.
Prior to the USPTO, Ms. Lee was Deputy General Counsel and Head of Patents and Patent Strategy at Google, responsible for Google's worldwide patent matters.  During her tenure at the company from 2003 to 2012, she oversaw and worked on the resolution of many patent disputes (pre-litigation and litigation), as well as mediations and settlements of litigations in district and appellate courts and administrative tribunals.
Ms. Lee served as a partner at Fenwick & West, where from 1996 to 2003, she represented a wide range of technology clients on intellectual property, licensing, and contract matters as well as litigations and settlements of intellectual property disputes.  Before that, she was a general civil litigator at the trial boutique law firm of Keker & Van Nest and handled contract, securities and intellectual property cases.
Prior to her legal career, Ms. Lee worked as a computer scientist at the M.I.T. Artificial Intelligence and Hewlett-Packard Research Laboratories.
Through her various roles in her 25+ year career as a technologist, in private practice and in-house, Ms. Lee has written, filed for, bought, sold, licensed and asserted patents and defended against patent infringement on behalf of clients across the technology spectrum.  She is technology and business savvy, and has formulated, structured and negotiated many business deals and settled numerous intellectual property, commercial disputes.  She understands how to find value for both sides to achieve mutually beneficial business terms acceptable to corporate boards and executive management teams in settlements of litigations.
Appointments:
2017-2018 Appointed the Herman Phleger Visiting Professor of Law at Stanford Law School
2006-2012 Member of the U.S. District Court for the Northern District of California's Local Patent Rules Committee
2009-2010 Member of the U.S. District Court for the Northern District of California's Magistrate Selection Committee
Awards (partial):
2018 selected as an American Arbitration Association Higginbotham Fellow
2017 recipient of the Patent Trial and Appeal Board Bar Association Award
2016 named Top 25 Icons of IP by Law 360
2016 awarded Champion of Intellectual Property Award from the District of Columbia Bar Intellectual Property Law Section
2015 selected as one of DC's Top 50 Women in Tech by Fedscoop
2015 (and again in 2017) named Tech Titan by Washingtonian Magazine
2014 named "Intellectual Property Trailblazer and Pioneer" by the National Law Journal
2014 chosen as one of the Top 50 Women Leaders in Tech Law by the Recorder
2012 received Bay Area Corporate Counsel Award for Best IP Lawyer by the San Francisco Business Times and Silicon Valley/San Jose Business Journal
Education:
J.D. Stanford Law School, Stanford Law Review
M.S. in Electrical Engineering and Computer Science at M.I.T., National Science Foundation Fellowship Awardee
B.S. in Electrical Engineering and Computer Science at M.I.T., Tau Beta Pi and Eta Kappa Nu Engineering Societies
Clerkships:
U.S. District Court for the Northern District of California
U.S. Court of Appeals for the Federal Circuit
Bar Admissions and Associations (partial, past and present):
State Bar of California, Member of the Litigation and IP Law Sections
Various U.S. District Courts
U.S. Court of Appeals for the Ninth and Federal Circuits
U.S. Supreme Court
Federal Circuit Bar Association, Board Member and Co-Chair of the In-House Sub-Committee
American Intellectual Property Law Association
Intellectual Property Owners Association
Association of Corporate Patent Counsel
v1-4-8-19
Download Bio