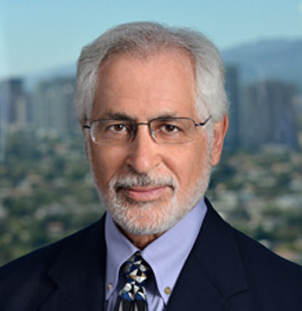 Judge A. Howard Matz (Retired)

U.S. District Court Central District of California
Arbitrator & Mediator
The experience that Judge Howard Matz acquired in over three decades of private practice and on the bench makes him well-qualified to assist parties and their counsel in resolving disputes through arbitration or mediation.
In private practice, he supplemented the trial skills he developed as a federal prosecutor by representing an unusually diverse range of clients in commercial litigation and arbitrations. He represented both plaintiffs and defendants, in both state and federal court, in a wide variety of complex cases. His clients included Fortune 100 corporations, as well as individuals. Many of his clients were lawyers and law firms. He was one of the first attorneys listed in The Best Lawyers in America.
Judge Howard Matz Areas of Expertise
On the bench, Judge Matz acquired vast experience in presiding over and helping to settle complicated cases involving such areas as:
SECURITIES
INSURANCE LAW
ANTITRUST
CIVIL RIGHTS
INTELLECTUAL PROPERTY (COPYRIGHT, TRADEMARK, PATENT LAW AND TRADE SECRETS)
QUI TAM ACTIONS
FOREIGN CORRUPT PRACTICES ACT
RICO
EMPLOYMENT LAW
PRODUCT LIABILITY
CLASS ACTIONS
CERCLA
Judge Matz also sat by designation on the Ninth Circuit Court of Appeals and he served on the Ninth Circuit Model Jury Instructions Committee. He was the first recipient of the "Vanguard Award," bestowed by the California State Bar for his contributions to intellectual property jurisprudence.
Judge Howard Matz Former Positions:
United States District Judge, Central District of California, 1998-2013
Founding Partner, Bird Marella Boxer Wolpert & Matz, 1983-1998
Partner, Hughes Hubbard & Reed LLP, 1979-1983
Assistant United States Attorney, Central District of California, 1974-1979 (Chief of the Fraud and Special Prosecutions Unit 1977-1979)
Law Clerk to the Honorable Morris E. Lasker, United States District Judge, Southern District of New York, 1969-1970
Judge Howard Matz Admitted to Practice:
New York (1970)
California (1973)
Judge Howard Matz Education:
J.D., Harvard Law School (1968)
A.B., Columbia University, cum laude (1965)