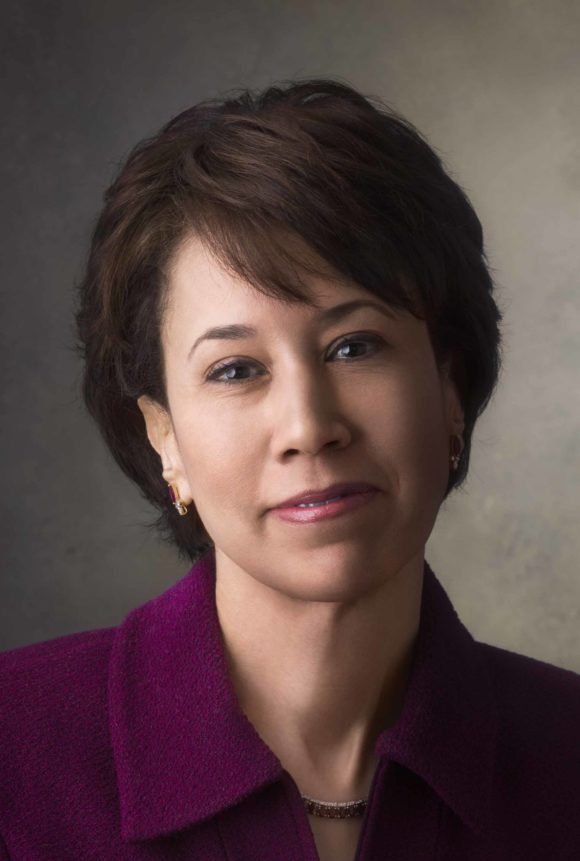 Judge Allyson K. Duncan (Retired)

Fourth Circuit U.S. Court of Appeals
Arbitrator, Corporate Investigator
Hon. Allyson K. Duncan was appointed to the Fourth Circuit U.S. Court of Appeals by President George W. Bush and confirmed by unanimous Senate Vote, making her the first African American woman to serve on that court—a distinction also true of her appointment to the North Carolina Court of Appeals. She served on the 4th Circuit for sixteen years, from 2003 to 2019, writing opinions on numerous issues.
While on the 4th Circuit Judge Duncan served on many Circuit and Judicial Conference Committees, and was particularly active in the international arena.  She was appointed by chief Justice John Roberts first as a member and later Chair of the International Judicial Relations Committee, the Committee responsible for responding to requests for judicial assistance worldwide.  She presently serves as Vice President and Regional President of the International Association of Judges, an organization founded in Saltsburg in the 1950s that now includes representatives from ninety countries, dedicated to supporting and educating the judiciary.  In that capacity she has spoken all over the world, and as recently as October of this year in Nur-Sultan, Kazakhstan, on issues such as improving judicial administration, handling complex cases involving national security, global intellectual property rights, and addressing private and governmental corruption.  She was elected President of the Federal Judges Association, the organization representing over a thousand Article III judges, and served on its governing board for a number of years
Prior to appointment to the bench, Judge Duncan was a partner in the law firm Kilpatrick Stockton, a top tier law firm headquartered in Atlanta, and worked in the employment and regulatory groups.  She came to private practice from a term on the North Carolina Utilities Commission, which regulated energy, natural gas, telecommunications, water utilities and represented a number of entities ranging from transmission companies to municipal gas utilities and incumbent local exchange carriers.  Her labor and employment expertise derived from serving with the Equal Employment Opportunity Commission, first as appellate attorney arguing Title VII and other federal anti-discrimination cases in the federal courts, and ultimately as the agency's Legal Counsel, representing it in defensive litigation, and developing and revising agency guidelines, such as its guidelines on sexual harassment.
Judge Duncan has been extremely active in her profession and in the community.  She served on a number of Committees of the North Carolina Bar Association, and was elected its first African American President in 2003—the term overlapping with her first year on the bench.
She serves on the Duke University Board of Trustees, having served on Audit and Compliance, Finance and chairing Graduate and Professional Education and Research.  She was a founding member of the Carolina Ballet and recently received the Triangle Business Journal Lifetime Achievement Award.  She has received numerous other recognitions and awards as well.
Representative Cases:
Antitrust Cases:
TFWS, Inc. v Franchot, 572 F.3d 186 (2009)
Discussing challenge by a liquor retailer that state statutory scheme regulating wholesale pricing of liquor and wine violated the Sherman Act.
Novell, Inc. v Microsoft, 505 F.3d 302 (2007)
Discussing the concept of antitrust standing for downstream injuries allegedly suffered as a result of anticompetitive conduct.
Telebrands Corp. v Federal Trade Commission, 457 F.3d 354 (2006)
Discussing the factors determining whether the coverage of a Federal Trade Commission (FTC) order including a fencing-in provision bears a reasonable relationship to the unfair or deceptive practices it is intended to remedy.
Arbitration Cases:
Dillon v BMO Harris Bank, N.A., 787 F. 3d 707 (2015)
Discussing, among other things, the extent to which bank's motion to dismiss claims reflect intent to enforce arbitration claims so as to make dismissal order appealable.
Rota-McLarty v Santander Consumer, USA, Inc., 700 F.3d 690 (2012)
Discussing whether the transaction underlying an agreement involved Interstate Commerce as required for enforcement of an arbitration provision under the Federal Arbitration Act (FAA), whether a motion to compel arbitration adequately invoked the FAA so as to create appellate jurisdiction and whether movant defaulted on her right to invoke arbitration.
Wachovia Securities, LLC v Brand, 671 F.3d 472 (2012)
Discussing challenge that the Arbitrators violated Section 10(a)(3) of the FAA and manifestly disregarded the law in awarding attorneys' fees and costs under state law.
Wheeling Hospital, Inc. v Health Plan of the Upper Ohio Valley, Inc., 683 F.3d 577 (2012)
Discussing the applicability of the FAA's exemption to the finality requirement and the extent to which a party's litigation activities led to a default of the right to arbitrate.
Central West Virginia Energy, Inc. Bayer Cropscience LP, 645 F.3d 267 (2011)
 Discussing extent to which overlapping jurisdiction of two arbitration panels was a matter of arbitrability that necessitated resolution by the courts.
Class Action Cases:
 Curtis v Propel Property Tax Funding, LLC, 915 F.3d 234 (2019)
Discussing, among other things, the issue of standing in a class action against a property tax lender alleging violations of the Truth in Lending Act (TILA) and the Electronic Funds Transfer Act (EFTA).
Jackson v Home Depot, 880 F.3d 165 (2017)
Discussing whether a third party counterclaim defendant is a "defendant" entitled to remove a class action from state to federal court.
Affirmed by the Supreme Court, May 28, 2019.
Environmental Cases:
Save Our Sound OBX, Inc. v  North Carolina Department of Transportation, 914 F.3d 213 (2019)
Discussing claims of a coalition of environmental groups under the National Environmental Policy Act (NEPA) and the National Historic Preservation Act (NHPA) against various federal and state agencies.
Ohio Valley Environmental Coal, Inc. v United States Army Corps of Engineers, 828 F.3d 316 (2016)
Discussing NEPA's environmental review requirements in the context of the Clean Water Act.
Sandlands C & D LLC v County of Horry, 737 F.3d 45 (2015)
Discussing whether a county's flow control ordinance, which prohibited waste disposal at other than a publicly owned landfill, violated the Commerce Clause or the Equal Protection Clause.
Precon Development Corp., Inc. v United States Army Corps of Engineers, 700 F. 3d 690 (2012)
Discussing, among other things, the presence of a "significant nexus" between adjacent wetlands and a navigable river approximately seven miles away under the Clean Water Act (CWA).
Finance/Securities Cases:
 Maguire Financial, L.P. v Powersecure International, Inc., 876 F.3 541 (2017)
Discussing whether and why the operative complaint in a securities fraud class action adequately alleged scienter.
Scottsdale v Capital Advisors Corp. v F.I.N.R.A,, Inc., 844 F.3d 414 (2016)
Discussing whether the Financial Industry Regulatory Authority, Inc.( FINRA) exceeded its authority in charging Respondents in a disciplinary proceeding with violating the Securities Act of 1933, or whether Respondents must first press their claims through the administrative process before seeking review in the appropriate court of appeals.
McCauley v Home Loan Investment Bank, F.S.B., 710 F.3d 551 (2013)
Discussing whether various state law claims brought by a mortgagor against a mortgagee alleging that the mortgage agreement was unconscionable and fraudulent are preempted by the Home Owners Loan Act.
Intellectual Property Cases:
 Booking.com B.V. v US Patent and Trademark Office, 915 F.3d 171 (2019)
Discussing, as a matter of first impression in the Circuit, whether the PTO bears the burden of proving that a proposed trademark is generic on appeal when registration is denied, and discussing the difference between generic and descriptive marks, and the effect of adding the top-level domain ".com" to a generic second-level domain.
Humphreys & Partners Architects, L.P.  v Lessard Design, Inc., 790 F.3d 532 (2015)
Discussing establishing substantial similarity in a claim of infringement of an architectural copyright.
McAirlaids, Inc. v Kimberly-Clark Corp., 756 F3d 307 (2014)
In an action for trade-dress infringement, discussing whether a manufacturer's pixel pattern was functional, and the distinction between trademark and pattern law protection in that context.
Swatch AG v Beehive Wholesale LLC, 739 F.3d (2014)
Discussing challenges to and the appropriate standard of review of the district court's findings that the there was no likelihood of confusion between two marks and that the challenged mark was merely descriptive.
Bonner v Dawson, 404 F3d 299 (2005)
Discussing the calculation of infringer's profits when the building In question, the exterior of which has been based on a copyrighted work, has been leased.
International Cases:
 Padilla v Troxell, 850 F.3d 168 (2017)
Discussing the standards of review applicable to the district court's various determinations under The Hague Convention on Civil Aspects of Child Abduction and its implementing statute, the International Child Abduction Remedies Act (ICARA).
Smedley v Smedley, 772 F.3d 184 (2014)
Discussing the issue of habitual residence for purposes of The Hague Convention on Civil Aspects of Child Abduction  and ICARA.
Clodfelter v Republic of Sudan, 720 F.3d 119 (2013)
Discussing, among other things, the applicability of the 2008 National Defense Authorization Act (NDAA) to actions against the Republic of Sudan previously brought under the state-sponsor of terrorism exception to the Foreign Sovereign Immunities Act (FSIA).
Wye Oak Technology, Inc. v Republic of Iraq, 666 F3d 205 (2011)
Discussing whether, for purposes of analyzing subject matter jurisdiction under the FSIA, a foreign state and its Armed Forces are separate legal persons such that a party alleging breach of a contract entered into by Iraq's Ministry of Defense falls within the FSIA's commercial activities exception.
Rux v Republic of Sudan, 461 F3d 461 2006)
Discussing jurisdictional and other issues arising in an action brought pursuant to the terrorist exception of the Foreign Sovereign Immunities Act (FSIA).
Labor and Employment Cases:
US Ex Rel. Grant v. United Airlines*, 912 F.3d 190 (2018)
Discussing pleading requirements for retaliation claims and presentment under the False Claims Act.  (*False Claims Act also)
Plotnick v Computer Sciences Corporation, 875 F.3d 160 (2017)
Discussing standard of review of "top hat" plans under ERISA.
O'Hara v. Nita Technologies, Inc.*, 878 F.3d 470 (2017) *(False Claims Act also)
Discussing the American Recovery and Reinvestment Act's whistleblower's protection provisions.
Solomon v Bert Bell/Pete Rozelle, NFL Player Retirement Plan, 860 F.3d 160 (2017)
Discussing the standard of review and reasonableness of ERISA plan administrator's benefits
Young v UPS, Inc., 707 F.3d 437 (2013)
The Supreme Court ultimately reversed my decision that the Pregnancy Discrimination Act does not prevent an employer from limiting pregnancy benefits if it treats all non-pregnancy based conditions with similar impact similarly. Vacated and remanded by Supreme Court  March 2015
Chamber of Commerce of the US v National Labor Relations Board, 721 F.3d 152 (2013)
Discussing the NLRB's authority to promulgate a rule requiring subject employees to post an official Board notice informing employees of their rights under the National Labor Relations Act (NLRA).
Marine Repair Services v Fifer, 717 F.3d 327 (2013)
Discussing the standard of review under the Longshore and Harbor Workers Compensation Act.
Balas v Huntington Ingalls Industries, 711 F.3d 401 (2013)
Discussing the court's jurisdiction to hear claims based on allegations included only in the EEOC intake questionnaire and letters to the agency.
 Minor v Bostwick Laboratories, Inc., 669 F.3d 428 (2012)
Discussing an issue of then-first impression under the Fair Labor Standards Act—whether infra-company complaints regarding FLSA violations fell within the meaning of the anti-retaliation provision.
Media General Operations, Inc. v NLRB, 560 F.3d 181 (2009)
Discussing whether a union employee's derogatory remark about a company Vice-President made in the workplace during working hours was protected activity under the National Labor Relations Act because of ongoing collective bargaining negotiations.
Westmoreland Coal Co. v Cox, 602 F.3d 276 (2010)
Discussing, among other things, an award of attorneys fees under the Black Lung Benefits Act.
 Newport News Shipbuilding & Dry Dock Co., 591 F.3d 219 (2009)
Discussing, among other things, the extent to which aggravating an existing condition can be a new harm for purposes of the Longshore and Harbor Workers Compensation Act
Intracomm, Inc. v Bajaj, 492 F.3d 285 (2007)
Discussing the scope of the "combination exemption" under the Fair Labor Standards Act.
Meson v GATX Technology Services Corp., 507 F.3d 299 (2006)
Discussing the prevention doctrine under contract law, and the scope of the "single site of employment" requirement under the Worker Adjustment and Training Notification Act (WARN).
Francis v Booz Allen & Hamilton, Inc., 452 F.3 299 (2006)
Discussing whether the reemployment provision of theUniformed Services Employment And Reemployment Act (USERRA) provides substantive protection beyond the point of rehire.
Garafolo v. Donald B Heslep Associates, Inc., 405 F.3d 194 (2005)
Discussing FLSA regulation permitting an employee who resides at work to enter into a "reasonable agreement" with the employer to determine a reasonable number of compensable hours.
Rohan v Networks Presentations LLC, 375 F.3d 266 (2004)
Discussing the protection of Post Traumatic Stress Disorder (PTSD) and severe depression under the Americans with Disabilities Act (ADA).
Lewis Coal Company v Director, Office of Workers Compensation Programs, 373  F.3d 570 (2004)
Discussing, among other things, the extent to which a mine operator's admission in a prior settlement agreement that a miner met the standard of total disability effectively established that the conditions and symptoms on which his disability was based qualified as "legal" pneumoconiosis under the Black Lung Disability Act  (BLSA).
Sidwell v Virginia International Terminals, Inc., 372 F.3d 238 (2004)
Discussing whether claimant's employment as they only full-time officer of the union local representing longshoremen constituted "maritime employment" within the meaning of the LHWCA
Buzzard v Holland, 367 F. 3d 263 (2004)
Discussing Trustee's denial of disability pension under an ERISA-covered benefit plan.
 Products Liability/Negligence Cases:
 Drager v Pliva USA, Inc., 741 F.3d 470 (2014)
Discussing whether a state tort claim based on negligent failure to test, inspect or adequately warn against the generic manufacturer of metoclopramide can survive the preemptive effect of the Food, Drug and Cosmetics Act (FDCA).
Walker v Medtronic, Inc, 670 F.3d 569 (2012)
Discussing whether a plus or minus flow variable included in the manufacturer's pre-market approval materials for a Class III medical device became a part of the federal requirements governing the device such that state tort claims based on the presence of the variable are preempted under the Medical Device Amendments (MDA).
Qui Tam Actions Cases:
 U.S. Ex Rel. Lutz v U.S., 853 F.3d 131 (2017)
Discussing, among other things, whether an interlocutory order denying a motion by the marketing agent for blood-testing laboratories to quash prejudgment writs of attachment and a writ of garnishment granted to the government under the Federal Debt Collection Procedures Act (FDCPA) was completely enmeshed with the merits and thus not appealable under the collateral order doctrine where the agent allegedly encouraged physicians to order medically unnecessary tests for which reimbursement was sought under federal health care programs.
 U.S. Ex Rel. Drakeford v Tuomey Healthcare System, Inc., 675 F.3d 394 (2012)
Discussing, among other things, whether compensation arrangements between a health care system and physicians performing outpatient services at the facility violated the Stark Law, which is designed to address the over-utilization of services by physicians who stand to profit from referring patients to entities in which they have a financial interest.
Regulatory/Utility Cases:
 Montgomery Co., Md. v FCC, 811 F.3d 121 (2015)
Discussing the interplay between municipal government control of telecommunications modification requests and the Federal Communications Commission rules implementing the Spectrum Act.
Cortel Virginia, LLC v Verizon Virginia LLC (Cortel II), 808 F.3d 978 (2015) – Cortel Virginia, LLC v Verizon  Virginia LLC (Cortel I)
These appeals discussed a number of issues arising out of Interconnection Agreements between Competing Local Exchange Carrier (CLEC) Cortel and Incumbent Local Exchange Carrier (ILEC) Verizon for use of Verizon's telecommunications facilities.
North Carolina Utilities Commission v Federal Energy Regulatory Commission, 741 F. 3d  439 (2014)
Discussing the review of electricity utility applications for incentives to encourage investment in transmission infrastructure projects under the Energy Policy Act.
Gaines Meter Lines, Inc., v Klaussner Furniture Industries, Inc., 734 F.3d 296 (2013)
 As a matter of first impression, discussing whether federally licensed motor carriers have a federal cause of action against a shipper for unpaid freight charges because the carriers are subject to the jurisdiction of the Surface Transportation Board (STB).
Central Telephone of Virginia v Sprint Communications of Virginia, 715 F.3d 715 (2013)
Discussing whether, in an action brought by an Incumbent Local Exchange Carrier against a Competing Local Exchange Carrier we should apply a prudential exhaustion requirement for the State Utilities Commission to consider the matter in the first instance.
FORMER POSITIONS:
Partner, Kilpatrick Townsend 1998-2003
Commissioner, North Carolina Utilities Commission 1991-1998
Judge, North Carolina Court of Appeals 1990-1991
Appellate Attorney. Legal Counsel, Executive Assistant to the Chairman, Equal Employment Opportunity Commission 1978-1986
Law Clerk to the Honorable Julia Cooper Mack, District of Columbia Court of Appeals 1977-1978
Associate Editor, Lawyers Cooperative Publishing Co. 1976-1977
WRITING AND SPEAKING ENGAGEMENTS:
Judge Duncan has spoken at numerous conferences and symposia, both  nationally and internationally, and made presentations to professional and governmental bodies, NGOs,  and international tribunals in Vienna and at The Hague, as well at UN sponsored events in Europe, Asia and Africa.  Judge Duncan has testified before Congressional Committee on energy issues.   Judge Duncan has served on moot court panels with Supreme Court Justices and  keynoted law school graduation exercises at Duke University School of Law and the University of Connecticut School of Law, from which she received an honorary degree.  She has alsogiven numerous CLE presentations, and taught law school seminars on Appellate Practice.
[v1-12-22-19]
Download Bio