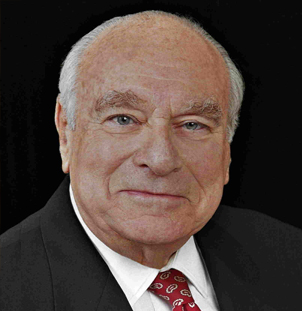 Judge Bruce W. Kauffman (Retired) Emeritus

U.S. District Court, Eastern District of Pennsylvania
Arbitrator & Mediator
Judge Bruce Kauffman served as a federal district court judge in the Eastern District of Pennsylvania from 1998 to 2009, and was a justice of the Supreme Court of Pennsylvania from 1980 to 1982. He was a partner in the firm of Dilworth, Paxson, Kalish & Kauffman and has taught at the University of Pennsylvania Law School.
He was Chairman of the Board of USA BancShares, Inc. from 1995 to January, 1998. He was Chairman of the Judicial Inquiry and Review Board from 1984 to 1988 and a member of many investigative commissions.
Judge Bruce Kauffman's expertise includes experience in Banking, Commercial, Employment, Insurance, Intellectual Property, Pharmaceuticals, and Securities.
Judge Bruce Kauffman Professional History:
Co-Chairman of Executive Committee Elliott Greenleaf, July 21, 2009-
Judge, United States District Court, Eastern District of Pennsylvania, January 20, 1998-July 20, 2009
Dilworth, Paxson, Kalish & Kauffman, (Associate, 1960-63; Partner, 1963-80; Chairman, 1982 through January 19, 1998)
Justice of the Supreme Court of the Commonwealth of Pennsylvania, 1980-82
Adjunct Professor of Law, University of Pennsylvania Law School 1995-2001
Chairman of the Board, USA BancShares, Inc. 1995 through January 19, 1998
Chairman (1988), Judicial Inquiry and Review Board (1984-88)
Judge Bruce Kauffman Publications:
Judicial Selection in Pennsylvania; A Proposal, 27 Villanova Law Review 1163 (1982)
Civil RICO Litigation Involving Banks: The Developing Case Law, 9 Delaware Journal of Corporate Law 1 (1984)
The Philadelphia Special Investigation Commission: Dissenting Statement of Commissioner Bruce W. Kauffman, 59 Temple Law Quarterly 411 (1986)
Judge Bruce Kauffman Bar Admissions:
The Supreme Court of the United States;
The United States Courts of Appeals for the First, Third, Fourth, Fifth, Eighth, Ninth and D.C. Circuits;
The United States District Courts for the District of New Jersey, the Eastern District of Pennsylvania and The District of Columbia;
The Supreme Courts of the State of New Jersey and the Commonwealth of Pennsylvania;
The District of Columbia Court of Appeals
Judge Bruce Kauffman Activities:
Member, American Law Institute
Fellow, American College of Trial Lawyers
Fellow, International Academy of Trial Lawyers
Member, Philadelphia Police Advisory Commission, 1994-97
Co-Chair of the Philadelphia Election Reform Task Force, 1994
Chairman, Commission to Preserve Legal Services for All, 1995
Trustee, University of the Arts, Philadelphia, Pennsylvania, 1988-1999
Member, House of Delegates, Pennsylvania Bar Association, 1982 through January 19, 1998
Member, Pennsylvania Bar Association Judicial Selection Reform Committee, 1983-84
Chairman, Mayor's Task Force on Minority Employment in the Philadelphia Police Department, 1982
Member, Philadelphia Special Investigation Commission ("MOVE Commission"), 1985-86
Delegate to the Pennsylvania Constitutional Convention, 1967-68
Co-chairman of Subcommittee on Selection Of Judges
Member, Advisory Committee to the U.S. Commission on Civil Rights, 1985-88
President, Philadelphia Bar Foundation, 1982-84
Chairman, Civil Service Commission, Lower Merion Township, 1982-88
Chairman, Montgomery County Government Study Commission, 1973-74
Committee of Censors – United States District Court for the Eastern District of Pennsylvania, 1976-80
Judge Bruce Kauffman Organizations:
American Bar Association
New Jersey Bar Association, Atlantic County
Pennsylvania Bar Association
Philadelphia Bar Association
The American Judicature Society
Citizens Crime Commission, Board Member, 1992-1997
Federal Judges Association, Board Member, 2003-2009
The Juristic Society
Lawyers' Club
Broadcasting Industry Council to Improve American Productivity, Co-Chairman of Advisory Board (1983-1985)
Merion Park Civic Association, President, 1966-68
Middle East Council, Board Member, 1992-94
Navy League of the United States, Life Member
The Pennsylvania Society
Fellow, Phi Beta Kappa Associates
Phi Beta Kappa Association of Philadelphia
The Pyramid Club, Board of Governors 1993-97
Supreme Court Historical Society
The Union League of Philadelphia
United States Coast Guard Auxiliary
The Yale Club
Yale Law School Association, Vice President, 1985-86
Yale Law School Association of the Philadelphia Area, Past President
Judge Bruce Kauffman Education:
College:
University of Pennsylvania, B.A., 1956 Phi Beta Kappa
Pi Sigma Alpha (Political Science Honorary)
Phi Gamma Mu (Social Science Honorary)
Major Honors in Political Science
 Law School:
Yale Law School, LL.B., 1959
Order of the Coif (for high attainment in the study of law)
Download Bio
inquiry+kauffman@fedarb.com