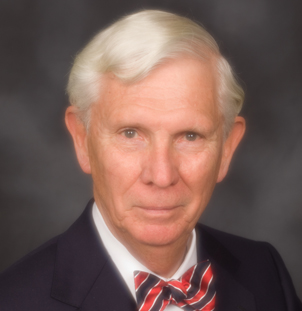 Judge William G. Bassler (RETIRED)

U.S. District Court, District of New Jersey
Arbitrator & Mediator
Judge Bassler since leaving the United States District Court in August of 2006, has been engaged as an arbitrator and mediator, as well as an adjunct professor at Fordham University School of Law. He has also evaluated mock presentations in preparation for motions and trials. His alternative dispute resolution and judicial experience includes cases involving patents, license agreements, trademarks, copyrights, securities, insurance/reinsurance, joint ventures, real estate, personal injury, breach of contract, and trade secrets.
Judge William Bassler's Recent Experience:
Selected to represent the International Commercial Disputes Committee of the Association of the Bar of the City of New York at UNCITRAL's Working Group II (Arbitration and Conciliation) in New York, February 2010. This Commission will continue its work on the revision of the UNCITRAL Arbitration Rules.
Appointed by Federal Court to co-monitor compliance with temporary restraining order.
Appointed by NJ Superior Court as discovery master in a putative class action.
Appointed by NJ Superior Court to serve as Inspector of Elections.
Selected by NJ Attorney General to monitor corporation's compliance with Agreement with Division of Criminal Justice.
Judge William Bassler's Judicial Activities:
U.S. Judicial Conference Committee of Court Administration and Case Management
Third Circuit Advisory Committee on Revision of Civil Jury Instructions
Third Circuit Task Force for Indigent Litigants in Civil Cases
Judge William Bassler's Arbitrations:
Arbitrated with co-arbitrators issue whether claimant's research license to respondent's research institute applied to claimant's commercial sales giving claimant a right to indemnification for its alleged patent infringement. (Case settled before hearing.)
Arbitrated multi-million dollar claim for environmental damages under indemnity agreement in contract of sale.
Arbitrated claim by limited partner against partnership and other partners for distribution under partnership agreement.
Arbitrated with co-arbitrators multi-million claims between and among fronting insurer, managing general agent and reinsurer.
Arbitrated claim against major New York City law firm over balance of outstanding legal fees.
Arbitrated with co-arbitrators claim for breach of contract in excess of $1 million by company providing computer services for automobile dealership.
Arbitrated claim by employee for gender discrimination and counterclaim by employer for breach of non-competition clause.
Arbitrated claim by acquisition company for damages against selling stockholders for breach of contract.
Arbitrated with co-arbitrators claim by insurer and reinsurer to rescind policy to cover claim in excess of $1 million.
Arbitrated dispute between partners over proper allocation of counsel fees under partnership agreement.
Arbitrated with co-arbitrators claim in excess of $3 million over breach of contract in sale of power plant.
Arbitrated claim in excess of $8 million by South American natural gas transport and processing company against a large New York City bank over conversion of funds.
Arbitrated $190 million claim by subsidiary of major automobile company over breach of contract with joint co-venturer.
Co-arbitrated multi-million dollar claim for damages for infringement of cell phone patent.
Judge William Bassler's Mediations:
Mediated dispute by expert for claim for services rendered to class action law firm for failure to pay for balance of contracted fee.
Mediated dispute between owner of apartment complex and insurer where the issue was the cause of the boiler's failure to function.
Mediated claim against insurance company for property damage loss and issue of whether there was sufficient proof of mailing requirements for cancellation of policy.
Mediated claim by major university for patent infringement.
Mediated claim by class against investors against mutual funds group.
Mediated claim of infringement of patent for storm windows.
Mediated claim by Israeli company for infringement of patent for prison video surveillance equipment.
Mediated patent infringement case between innovator drug company and generic.
Mediated dispute between partner and deceased partner's estate over ownership of works of art.
Mediated claim in excess of $4 million by property owner against insurance company for damages from fire loss.
Mediated dispute between owner and insurance company over losses due from land shift.
Mediated claim by condo association against member for damages for breach of condo rules and regulations.
Mediated claim for violation of copyright.
Mediated claim by SEC for violations of Securities Laws.
Mediated claim against insurance companies for injuries to children due to lead poisoning.
Mediated claim by small company against generic for Lanham Act claims.
Judge William Bassler's Speaking Engagements:
Panelist, American Conference Institute's 2nd annual Hatch-Waxman series, "Paragraph IV On Trial," New York 2009
West Legalworks Fourth Annual eDisclosure Forum: "Who Is Responsible and Who Is Accountable," London 2008
ABA Section of Int'l Law's Fall Meeting (panelist), "Why and How To Educate your Non-US Clients about Electronic Discovery," Brussels 2008
PLI's Developments in Pharmaceutical and Biotech Patent Law, "Bench Perspective: Trying a Pharmaceutical or Biotech Patent Case," New York 2008
ABA Annual Meeting (panelist), "Ensuring & Enforcing Ethics in Arbitration," New York 2008
ABA Section of Int'l Law's Spring Meeting (panelist), "Perspectives on Universal Jurisdiction, Extraterritoriality and the Future of Alien Tort Statute Litigation: Talisman and Other Recent Cases," New York 2008
American Conference Institute 2nd Annual Conference on Paragraph IV Disputes (panelist), "View from the Bench: Judicial Views on Paragraph IV Litigation," New York 2008
New York State Bar Association, Commercial and Federal Litigation Section (panelist), "Introduction to Mediating the Complex Case," 2008
CEELI Institute Course, "Building Judicial Integrity: A Training Program for Combating Judicial Corruption," Prague 2007
Georgetown University Law Center's CLE Programs, "Litigating Employment Cases: Views from the Bench"
Law Seminars Int'l's Patent Claim Construction, "A View from the Bench," 2007
ABA Section of Int'l Law's Fall Meeting (panelist), "Where to Arbitrate?" London 2007
Practicing Law Institute (panelist), "How to Prepare & Conduct Markman Hearings," New York 2007 and San Francisco 2006
Judge William Bassler's Publications:
Reasons for Mediating International Environmental Tort Claims in the Shadow of the Alien Tort Claims Act, co-authored with Yitzchok Segal, ABA Section of Dispute Resolution, January 2009
Are the Halcyon Days of Patents Over, co-authored with Katherine A. Helm, Bloomberg Corporate Law Journal, Spring 2008
How to Select the Best Seat for Your Int'l Arbitrations, co-authored with Robert Davidson, Mealey's Int'l Report, January 2008
Hitting the Mark: Fundamentals of Preparing For and Conducting an Effective Markman Hearing, 189 New Jersey Law Journal,

 

July 30, 2007
The Importance of Predictability in Maritime Disputes, 38 The Arbitrator, January 2007
Cert. Granted: The Practical and Philosophical Reasons Why New Jersey Should Adopt a Certification Procedure, co-authored with Michael R. Potenza, Esq., 29 Seton Hall L. Rev. 491 (1998)
Thomas More: A Man For This Season, Vital Speeches of the Day, March 1998
Lost Cause or Last Chance for Civility, NJL.J., July 18, 1995
The Federalization of Domestic Violence: An Exercise in Cooperative Federalism or a Mis-Allocation of Federal Judicial Resources?, 48 Rutgers L. Rev. 1139 (1996)
Judge William Bassler's Awards & Honors:
Lifetime Achievement Award, Essex County Bar Association 2008
William J. Brennan, Jr. Award, Association of the Federal Bar of NJ 2006
Thomas More Medal, Seton Hall Law School and the St. Thomas More Society 1997
Judge William Bassler's Education:
University of Virginia Law School, LL.M. (Judicial Process) 1995
New York University Graduate School, LL.M. (General) 1969
Georgetown University Law Center, J.D. (Law Review) 1963
Fordham University, B.A. 1960
Download Bio