MDL Advisory Board
Read the full Press Release here.
FedArb has assembled eight of the leaders in MDL Litigation to work with leaders in the judiciary, the MDL bar and in academia to contribute their expertise, experience and thought leadership to foster and develop best practices.
Hon. Ruben Castillo (former Chief Judge of the Northern District of Illinois)
Hon. Jeremy Fogel (former U.S. District Court judge for the Northern District of California, former head of the Federal Judicial Center and currently Executive Director of the Berkeley Judicial Institute at Berkeley Law School)
Hon. Royal Furgeson (former member of the Judicial Panel On Multidistrict Litigation, former U.S. District Court judge for the Northern District of Texas, and former Dean of UNT Dallas College of Law)
Deborah Hensler, Ph.D. (professor at Stanford Law School)
Robert Klonoff (Professor at Lewis & Clark; author of a leading MDL textbook)
Hon. David Levi (former Chief Judge of the Eastern District of California, former dean at Duke Law School and president of the American Law Institute)
Hon. Shira Scheindlin (former U. S. District Court judge, Southern District Of New York)
Hon. Vaughn Walker (former Chief Judge of the Northern District of California)
Important issues in the MDL community:
Allocation of attorneys' fees in non-class action MDL settlements
Interlocutory review of MDL decisions
Issues regarding mandamus in the opioid cases
The concept of a Negotiating Class, advanced by the late Francis McGovern and Bill Rubenstein
What are the obstacles to effectiveness of MDL consolidations?
Is the criticism of the use of special masters in MDLs warranted?
Should there be a template for the responsibilities of a special master in an MDL?
FedArb's former Article III judges with MDL expertise:
MDL NEWS:
Former Judges David Levi and Vaughn Walker to conduct Mass-Tort MDL Certificate & Advanced Certificate Program at Duke University School of Law.
MDL – Monitor Engagements
T-Mobile/Sprint acquisition Monitoring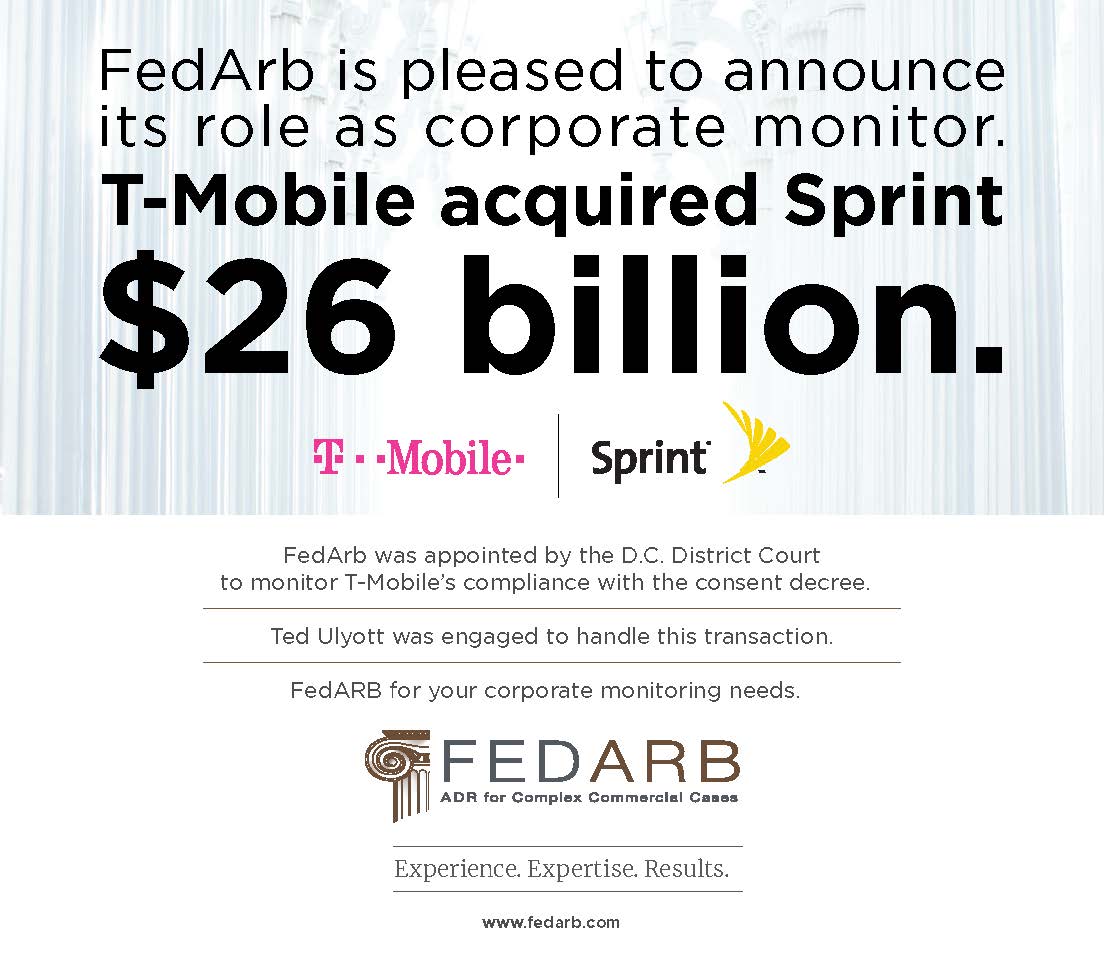 Global Growth Monitoring

FedArb was appointed to be a chair of a panel to review Acquisitions, Divestitures, and Refinancings pending the resolution of litigation.
SPECIAL MASTERS
ABA Guidelines for the Appointment and Use of Special Masters in Federal and State cases.
Participants in judicial proceedings should be made aware that special masters can perform a broad array of functions that do not usurp judicial functions, but assist them. Among the functions special masters have performed are:
discovery oversight and management, and coordination of cases in multiple jurisdictions;
facilitating resolution of disputes between or among co-parties;
pretrial case management;
advice and assistance requiring technical expertise;
conducting or reviewing auditing or accounting;
reviewing materials withheld as privileged or proprietary;
facilitating settlement of pretrial issues or the entire case;
addressing issues related to expert qualifications and opinions;
allocating settlement funds or awards;
evaluating fee petitions;
conducting privilege reviews and protecting the court from exposure to privileged material and settlement issues; monitoring; class administration; conducting trials or mini-trials upon the consent of the parties;
settlement administration;
claims administration; and
receivership and real property inspection.
In these capacities special masters can serve numerous roles, including management, adjudicative, facilitative, advisory, information gathering, or as a liaison.