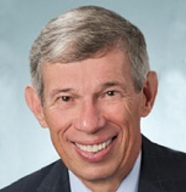 Jerold Oshinsky, Esq.
Arbitrator & Mediator
Jerold Oshinsky has more than thirty years of experience litigating insurance recovery cases in federal and state courts throughout the country on behalf of a variety of Fortune 500 companies and others in the chemical, pharmaceutical, financial, food, education and health industries. Chambers USA describes him as "the foremost practitioner at the policyholder Bar," designating him as the only lawyer to be accorded "Star" ranking in its national insurance category for three consecutive years. Additionally, in 2013 Mr. Oshinsky was the sole honoree of the prestigious Chambers "Lifetime Achievement Award."
Mr. Oshinsky litigates some of the most significant, complex insurance coverage issues in the country, applying theories which he developed that have guided insurance recovery law since its inception. He also advises clients about how to maximize their insurance assets. In addition, he is frequently selected as a party-appointed arbitrator in complex insurance coverage disputes. Recently, he has been focusing on issues relating to cyber liability, intellectual property, antitrust and sexual abuse claims, as well as natural disaster cases related to earthquakes and events such as Hurricane Katrina and Superstorm Sandy.
In 2013, Chambers USA included Mr. Oshinsky in its top tier "Band 1" ranking in California in the Insurance: Policyholder category. Legal 500 recognized Mr. Oshinsky in 2011 as one of 13 "Leading Lawyers" nationally in its "Insurance: Advice to Policyholders" category. He was one of Law360's "10 Most Admired Attorneys" in 2010 and is regularly cited in Best Lawyers, Super Lawyers, and the Lawdragon 500 Leading Lawyers in America. Additionally, Mr. Oshinsky has been recognized as a leader in his field by the International Who's Who of Insurance and Reinsurance Lawyers every year since 2010. In 2012, he was selected as a Leading Expert in Insurance and Reinsurance by Legal Media Group: Expert Guides.
In addition to his insurance practice, Mr. Oshinsky actively represents clients in pro bono matters and has acted as lead counsel in numerous pro bono immigration appeals. He also frequently lectures and publishes on a wide variety of insurance law topics, and serves as an expert witness in insurance coverage litigation matters. His recent speaking engagements and publications are mentioned herein.
Jerold Oshinsky's Authorships and Publications:
"Does Your Insurance Policy Protect Against Liability Under the New HIPAA Regulations?" URMIA Journal, 2013
"Is Your Organization Adequately Protected Against Liability Under the New HIPAA "Omnibus" Regulations—Risk Mitigation Considerations," Lexology Newsletter, May 6, 2013
"Practitioner's Guide to Litigating Insurance Bad Faith Claims," Journal of Taxation and Regulation of Financial Institutions, January/February 2013
"Mediation and Insurance Litigation: Factors Affecting Early Settlement," ABA Commercial & Business Litigation Newsletter, Summer 2011
"Hold your horseplay: Recent ruling not a victory for insurers," Los Angeles Daily Journal, July 29, 2011
"A Primer on Coverage For Infringement Suits," Law360, February 22, 2011
"Duty to Defend 'Suits' Extends to 'Quasi-Judicial' Administrative Proceeding," Los Angeles Daily Journal, January 11, 2011
"Fighting Phishing, Pharming, and Other Cyber-Attacks: Coverage for High Tech Liabilities," University Risk Management Insurance Association Journal, 2010
"California, Home of Wage and Hour Lawsuits," Los Angeles Daily Journal, May 10, 2010
"Volcanic Ash: Preserving Your First Party Insurance Rights" Law360, April 22, 2010
"Insurance Coverage For Cyber Crimes," Los Angeles Daily Journal, April 14, 2010
"Is "Fair" Fair?: "All Sums" and the Allocation of Deductibles," Coverage Journal, Vol 20, Number 2, March – April 2010
Jerold Oshinsky's Speaking Engagements:
Speaker, "Bad Faith in the Investigation of Insurance Claims," Strafford Publications Webinar, June 20, 2013
Speaker, "Data Breach Insurance: Key Clauses and Language You Need to Know," National Constitution Center Webinar, May 16, 2012
Moderator, "After the Storm – Catastrophic Loss and Business Interruption," Perrin Conferences – Emerging Insurance Coverage & Allocation Issues Conference, New York, NY, February 23, 2012
Speaker, "Bad Faith in the Investigations of Insurance Claims: Strategies for Pursuing and Defending Allegations of Insurer Misconduct," Strafford Publications Webinar, May 4, 2011
Speaker, "Allocating Deductibles and Self-Insured Retention: Scope of Coverage Strategies for Policyholders and Insurers," Strafford Publications Webinar, February 2, 2011
Speaker, "Trigger & Non-Product Issues – Past, Present, and Future," Perrin Conferences – Emerging Insurance Coverage & Allocation Issues, New York, NY, January 24, 2011
Speaker, "Why Don't Cases Settle Early?" Insurance Coverage Litigation Committee of the Tort Trial & Insurance Practice Section of the American Bar Association, Los Angeles, CA, January 20, 2011
Speaker, "Data Breach Insurance: Key Clauses and Language You Need to Know," National Constitution Center Audio Conference, January 7, 2011
Speaker, Orange County Bar Association's Sections of Insurance Law & Alternative Dispute Joint Meeting, Costa Mesa, CA, August 27, 2010
Panelist, "Bad Faith in the Investigation of Insurance Claims: Strategies for Pursuing and Defending Allegations of Insurer Misconduct," Strafford Publications Webinar, July 29, 2010
Speaker, "Allocation of Deductibles and Self-Insured Retention in Insurance Claims," Strafford Publications Webinar, June 09, 2010
Panelist, "Coverage Conflicts and Expensive Disputes: How to Risk Manage your Renewal," University Risk Management and Insurance Association, Nashville, TN, September 12, 2009 to September 16, 2009
Jerold Oshinsky's Education:
Columbia Law School (J.D., cum laude, Harlan Fiske Stone Scholar, 1967)
Editor, Columbia Journal of Law and Social Problems
Brooklyn College (B.A., cum laude, 1964)
Jerold Oshinsky's Bar Admissions:
1968, New York
1980, District of Columbia
2007, California
Jerold Oshinsky's Court Admissions:
1969, U.S. District Court, Eastern District of New York
1971, U.S. Supreme Court
2011, U.S. District Court, Central District of California
U.S. District Court, Southern District of New York
Jerold Oshinsky's Memberships:
Editorial Board Member, FC&S Legal: The Insurance Coverage Law Information Center
Download Bio
inquiry+oshinsky@fedarb.com