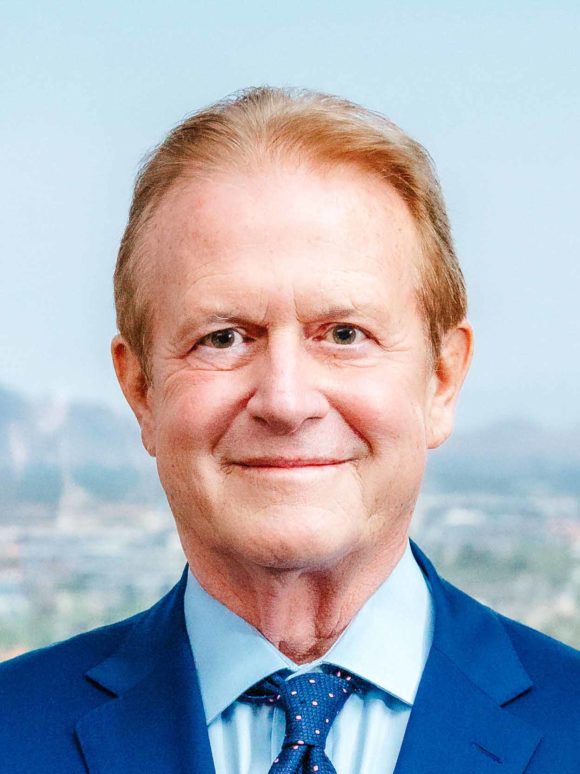 Don Bivens, Esq.

Phoenix, AZ
Arbitrator, Mediator, Expert, Mock Trials, Corporate Investigations
Don Bivens is a renowned and trusted litigator, mediator and arbitrator based in Phoenix. He is the former Chair of the American Bar Association's 55,000- member Section of Litigation. His peers rank Don as a Best Lawyer across five practice areas: (1) bet-the-company litigation; (2) intellectual property litigation; (3) securities litigation; (4) banking and finance litigation; and (5) commercial litigation. Don has three times been recognized as "Lawyer of the Year" in Banking and Finance Litigation.
In the American Bar Association, Don has served on the national Board of Governors, and its Executive Committee.   He currently chairs the ABA Center of Innovation, and he is a former chair of the ABA Standing Committee on Technology and Information Systems.   He represents the Section of Litigation in the ABA House of Delegates.
Don is a past president of the State Bar of Arizona, the Western States Bar Association, and the Maricopa County Bar Association.   He was inducted into the Hall of Fame of the Maricopa County Bar Association.   The Arizona State Bar has awarded him its highest honor, the Walter E. Craig Award, for outstanding contributions to the Arizona legal community.
The Supreme Court of Arizona in 2016 appointed Don to chair the Court's Committee on Civil Justice Reform, where he presided over sweeping changes to the Arizona civil rules to make litigation more efficient and less costly in Arizona courts.  In 2019 the Supreme Court appointed Don to the Task Force of the Delivery of Legal Services, which initiated major changes to Arizona's rules of professional conduct, creating a new tier of non-lawyer legal service providers, and permitting non-lawyers to own law firms and share fees with lawyers.  Don currently sits on the Arizona Judicial Counsel, which is the highest advisory board to the Arizona Supreme Court.
In private practice for 40 years, Don has represented an unusually diverse range of clients in complex commercial litigation and technology disputes.  He clients included Fortune 100 companies, tech companies, entrepreneurs, and law firms.  He has participated in well over 100 complex trials, mediations, and arbitrations.
Don's broad experience acquired over four decades of private practice makes him exceptionally qualified to help parties and their counsel as a mediator or arbitrator.  Don also participates as a judge in moot courts, and he serves as an expert witness or special master in complex cases.
Areas of Expertise:
Technology and Intellectual Property:
Patents, Trademarks, Trade Secrets, Unfair Competition
Software Licensing, Infringement, and Performance
Semi-conductor manufacture and design
MOSFET and Super MOSFET design
Chemical and Electrical Processes
Aviation and Aeronautics: Fixed Wing and Rotary
Medical Devices
Complex electronic control systems for missiles, generators, fracking
Finance, Accounting and Banking:
Audit and Accounting Compliance and Liability
Complex Financing and Loan Facilities
Financial Fraud and Whistleblowing
Litigation Financing
Capital Market Transactions
Real Estate Development and Financing
Lender Liability
Securities Law:
Class Actions
Officer and Director Liability
Securities Fraud
Stock Options
Derivative Actions
Class Actions
Proxy Disputes
Real Estate, Construction, Engineering and Architecture:
Architectural and Engineering Liability
Hotels, Entertainment Venues, Schools, Parking Structures
Commercial and Residential Construction and Entitlement
Solar Energy
Environmental Liability and Remediation
Brokerage Disputes
Representative Cases:
Defending a global chemical firm against $470 million in patent infringement claims in the manufacture of electroluminescent phosphor coatings.
Defending a Big 4 accounting firm against $25 million in claims for accounting and auditing malpractice
Prosecuting over $100 million in claims by a County against multiple medical providers for illegal reimbursement schemes, including Medicare, and ACHCCS reimbursement criteria.
Prosecuting a $20 million trade secret claim against an international semiconductor and MOSFET manufacturer.
Prosecuting and defending complex software and hardware contracts and licensing agreements.
Defending a $20 claim for trade secret misappropriation over complex electronic control systems for generators used in oil-field fracking.
Prosecuting and defending claims of architectural and construction malpractice in theaters, schools, hotels, resorts, parking structures and homebuilding.
Defending claims of environmental contamination and remediation.
Defending officers and directors of a national public restaurant franchise company against allegations of securities fraud.
Defending a global medical manufacturer against products liability claims for implanted medical devices.
Defending claims of legal malpractice in municipal bond transactions.
Investigating allegations of illegal stock option trading by executives in a national pharmaceutical company.
Investigating claims of illegal drug sales in the work force of a global engineering and manufacturing firm.
Representing a global aerospace executive against claims of trade secret misappropriation his former company's trade secret.
Prosecuting and defending cases of architectural malpractice.
Representing a whistleblower with over $100 million in claims against a global bank for illegal banking practices.
Representing a large recycling facility against a municipality for a $50 million breach of contract.
Representing naturalized citizens against the federal government in proceedings to strip their U.S citizenship.
Representing physicians in hospital privileges disputes across multiple specialties, including antitrust issues.
Representing Trustees and Personal Representative in significant Trust & Estate Disputes and claims of breach of fiduciary duties.
Representing employees and companies in disputes over restrictive covenants
Prosecution of claims for abuse of process and malicious prosecution
Prosecution of Section 1983 claims against governmental entities.
Representing employers and employees in cases of wrongful termination and whistleblowing cases.
Representative Publications and Presentations:
"Arizona's Legal Paralegal Program", Arizona Court Leadership Conference, Tucson, Arizona (April 2021).
"The ABA Center for Innovation", Oregon State Bar Meeting, Virtual Presentation (April 2021).
"Legal Innovation in America", Global Legal Innovation Conference, Virtual Presentation (INSERT DATE 2021).
"Arizona's New Ethical Rules", Phoenix Chapter of American Board of Trial Advocates, Virtual Presentation.
"Meeting Consumers Where They Are: The Case For Nonlawyer Legal Services," Arizona Attorney Magazine (April 2020).
"New ABA Center for Innovation chair believes center can be catalyst for needed legal industry reform," Featured, American Bar Association (February 20, 2020).
"Arizona Litigator Named New Chair of ABA Center for Innovation," Featured, LawSite Blog (February 18, 2020).
"Making Motions Practice More Efficient and Effective," Speaker, Institute for the Advancement of the American Legal System, Webinar (April 2019).
"How to Prevent Executives from Saying the Wrong Thing When Testifying," Arizona Association of Corporate Counsel (February 2019).
"Arizona's New Civil Rules," Speaker, Southern Conference of Chief Justices, Little Rock, Arkansas (May 2018).
"The District of Arizona's Federal Civil Rules Pilot Program," Panelist, Tucson Federal Bar Association (April 2018).
"Arizona's New Civil Rules," Speaker, Arizona Supreme Court Civil Summit, Phoenix (January 2018).
"Legal Reforms Improving Access to Justice", Panelist, ABA Litigation Section Leadership Meeting, Louisville, Kentucky (October 2018).
"Arizona's New Civil Rules: What Every Lawyer Needs To Know," Author, Arizona Attorney (December 2017).
"Arizona's New Civil Rules," Speaker, State Bar of Arizona, Tucson (December 2017).
"Advances in Civil Justice Reform," Speaker, National Association of Presiding Court Officers Meeting (September 26, 2017).
"Arizona's New Civil Rules," Speaker, Western Conference of Chief Justices, Park City, Utah (May 2017).
"Our Members Share Their Secrets for Success," Author, American Bar Association's Litigation, Vol. 40, No. 4 (Summer 2014).
"Fourteen Tips to Make You a Better Litigator," Author, American Bar Association's Litigation, Vol. 40, No. 3 (Spring 2014).
"Watergate Inspires After 40 Years," Author, American Bar Association's Litigation, Vol. 40, No. 2 (Winter 2014).
"Five Traits of the Best Lawyers I Know," Author, American Bar Association's Litigation, Vol. 40, No. 1 (Fall 2013).
[v1-7-19-21]
Download Bio
inquiry+bivens@fedarb.com