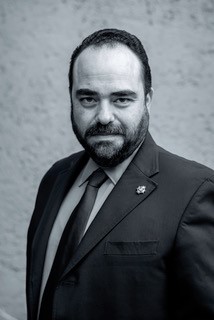 Dr. Oscar Cruz Barney
Dr. Oscar Cruz Barney is a partner and practicing lawer at the firm Cruz Barney/Perez Cuellar in Mexico City, Mexico.
His experience acquired in almost five decades of private practice and on the bench makes him exceptionally‐qualified to assist parties and their counsel in resolving disputes through arbitration or mediation, in conducting moot courts and in serving as an expert witness or Special Master.
Dr. Cruz Barney Graduated with honors from the Universidad Iberoamericana in 1995, Dr. Cruz Barney also holds a Ph.D. in Law from the Universidad Panamericana, which he obtained in 2005. In 2012, his law degree was officially validated as a Spanish degree by the Ministerio de Educación, Cultura y Deporte de España.
Since 1992, he is a partner of Cruz Abogados (formerly Rodolfo Cruz Miramontes), an activity he couples with his work as a potential arbitrator of the Centro de Arbitraje de México (CAM) and of the International Chamber of Commerce in Paris (ICC), as well as his research work at the Instituto de Investigaciones Jurídicas de la UNAM.
Recently accredited as a mediator, arbitrator, negotiator, and ombudsman by the Federation of Integrated Conflict Management – The Mediation and Conciliation Network, Dr. Cruz Barney also serves as a panelist for Chapter XIX of the North American Free Trade Agreement and has participated in the "Side Room", the private sector delegation for international negotiations of the Mexican government. He currently serves as president of the Mexican National Committee of the Union Internationale des Avocats (UIA) and is an expert member of the Mexican Delegation to the Organización Internacional de la Viña y el Vino (OIV) in the DROCON groups, Consumer Rights, and Information CIII Economy, and SECUAL Law, Food Safety.
Dr. Cruz Barney was president of the Ilustre y Nacional Colegio de Abogados de México between 2008-2010 and 2010-2012 and is currently a member of the Ilustre Colegio de Abogados de Madrid. Dr. Cruz Barney was also appointed Vice President of the Academia Mexicana de Jurisprudencia y Legislación for the period 2023-2025.
With a solid and internationally recognized academic and professional experience, in addition to his interventions as speaker in several masters and graduate courses in the Universidad Iberoamericana, the Universidad Panamericana, the Escuela Libre de Derecho, the Instituto de Investigaciones Jurídicas de la UNAM, and the International Chamber of Commerce Mexico, he is a frequent guest as lecturer and professor in Spain, France, Italy, Belgium, Germany, Finland,
Portugal, the United States, Argentina, Chile, Brazil, Colombia, Peru, Panama, the Dominican Republic, and Puerto Rico, among other countries. In 2022, Dr. Cruz Barney was appointed Professeur Distingué "Honorary Professor" of the Faculty of Legal, Political, and Social Sciences of the Université de Lille, France.
Author of a significant number of works on international trade law, arbitration, and the history of law, Dr. Cruz Barney is an advisor and member of numerous editorial and scientific committees of specialized publications. He is also a frequent participant and coordinator of seminars and academic workshops, as well as national and international congresses.
Representative Matters
Arbitrations
Arbitrator for the International Chamber of Commerce in Paris, where he has acted as an arbitrator in various arbitrations related, among other topics, to energy investment projects.
FORMER POSITIONS
Former Vice President of the Foreign Trade Commission of the Confederation of Industrial Chambers
President, Illustrious and National Bar Association of Mexico
Senator, Senate of the Ibero-American Union of Colleges and Groups of Lawyers
UIBA and Counselor, Presidency of the Union Internationale des Avocats (Paris, France)
Director, Mexican Law History Review
EDUCATION
Doctor of Law, Universidad Panamericana (2005)
SPEAKING AND WRITING ENGAGEMENTS
Dr. Cruz Barney has served as a panelist or speaker at numerous conferences, symposia, law school seminars or moot courts and civic organizations, including the following:
Women Customs Agents Association (Mexico City, Mexico 2022)
Presentation on New Perspective on Family Law in Mexico at the Annual Congress (Munich, Germany 2022)
OTHER ENGAGEMENTS
PUBLISHED WORKS
Various books and articles on Arbitration, International Dispute Resolution Mechanisms and History of Law published in Mexico, Spain, Germany and France.
PROFESSIONAL AND COMMUNITY SERVICE
Member, Madrid Bar Association
Panelist, NAFTA Chapter XIX Dispute Settlement Mechanism on Antidumping and CVD
Arbitrator, International Chamber of Commerce of Paris ICC
Participant, "Cuarto de Junto" in the Private Sector in the international commercial negotiations of the Government of Mexico
Researcher, Institute of Legal Research of the UNAM
President, Mexican National Committed of the Union Internationale des Avocats (2020-Present)
Director, Private Law Review
Member, Société d'Histoire du Droit
Member, Société pour L'Histoiredes Facultes de Droit et de la Culture Juridique
Member, Society of Chilean Bibliophiles
Member, Mexican Delegation to the International Organization of Vine and Wine OIV
Honorary Professor, Universite de Lille, Faculty of Law, Political and Social Sciences (France)
Professor and Guest Lecturer at institutions and universities in the following countries: United States of America, Peru, Chile, Colombia, France, Spain, Italy, Germany and Finland
Member, International Trade Commission of the Confederation of Industrial Chambers
Member, Arbitration Commission of the Mexican Chapter of the Chamber International Trade ICC
Vice President, Mexican Academy of Jurisprudence and Legislation (2023 to Present)
Download Bio
inquiry+barney@fedarb.com