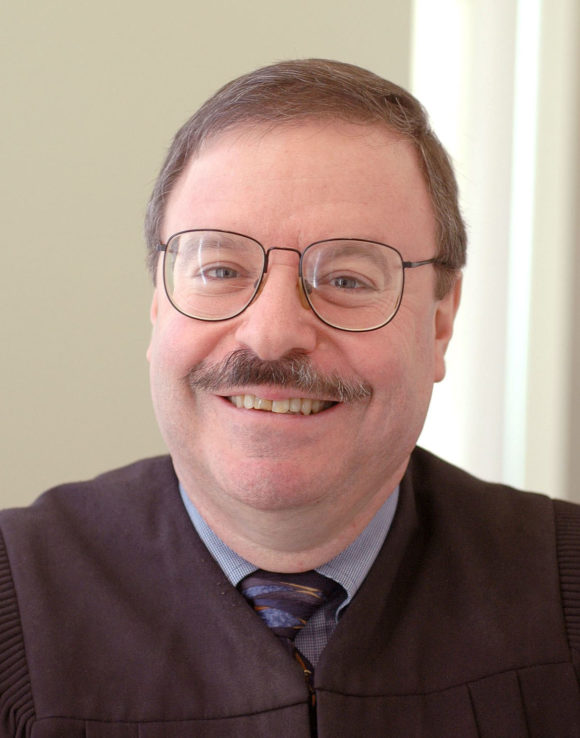 Judge Andrew J. Peck (Retired)

U. S. Magistrate Judge for the Southern District of New York
Arbitrator, Mediator, Mock Trials, Special Discovery Master
The Honorable Andrew J. Peck served for 23 years as a United States Magistrate Judge for the Southern District of New York, including a term as Chief Magistrate Judge from 2004 to 2005. Before his appointment to the bench, Judge Peck was in private practice for 17 years, focusing on commercial and entertainment litigation, including copyright and trademark matters, with extensive trial experience.
Judge Peck advises on innovative and efficient solutions to the challenges of information management, both within and outside the litigation context. He frequently speaks at conferences concerning eDiscovery issues. Judge Peck also is available to serve as an arbitrator, mediator and Special Master.
Judge Peck is recognized internationally for bringing electronic discovery competency to the attention of both the judiciary and bar. Indeed, he is widely described as the first judge to tackle the subject of e-discovery head on, most notably in the influential 1995 decision Anti-Monopoly v. Hasbro, in which Judge Peck found that "it is black letter law that computerized data is discoverable if relevant." Also among his legacy rulings is the 2011 employment class action Monique Da Silva Moore, et. al. v. Publicis Groupe & MSL Group, the first judicial decision approving the use of technology-assisted review. In March 2018, the New York Law Journal called Judge Peck "one of e-discovery's most influential figures."
Among the honors he has received, American Lawyer named him to its list of the Top 50 Innovators of the Last 50 Years as its Judicial E-Discovery Innovator.
EXPERIENCE:
During his tenure as a Magistrate Judge, Judge Peck issued more than 1,500 published opinions. He also settled hundreds of cases.
Judge Peck's key eDiscovery opinions:
Fischer v. Forrest, 14 Civ. 1304 & 1307, 2017 WL 773694 (S.D.N.Y. Feb. 28, 2017) (Rule 34)
Hyles v. New York City, 10 Civ. 3119, 2016 WL 4077114 (S.D.N.Y. Aug. 1, 2016) (requesting party cannot force responding party to use TAR)
Rio Tinto PLC v. Vale S.A., 14 Civ. 3040, 2015 WL 4367250 (S.D.N.Y. July 15, 2015) (appointing TAR Special Master)
Rio Tinto PLC v. Vale S.A., 306 F.R.D. 125 (S.D.N.Y. 2015) (black-letter law that responding party can use TAR)
Da Silva Moore v. Publicis Groupe, 287 F.R.D. 182 (S.D.N.Y. 2012) (first judicial decision approving use of predictive coding aka TAR), aff'd, 2012 WL 1446534 (S.D.N.Y. Apr. 26, 2012)
William A. Gross Constr. Assocs., Inc. v. Am. Mfrs. Mut. Ins. Co., 256 F.R.D. 179 (S.D.N.Y. 2009) (keyword search)
In re NTL, Inc. Sec. Litig., 244 F.R.D. 179 (S.D.N.Y 2007) (possession, custody or control; spoliation & adverse inference instruction), aff'd, 2007 WL 1518632 (S.D.N.Y. May 17, 2007)
Anti-Monopoly, Inc. v. Hasbro, Inc., 94 Civ. 2120, 1995 WL 649934 (S.D.N.Y. Nov. 3, 1995) (discoverability of computerized data)
Representative Intellectual Property Decisions:
Janik v. SMG Media, Inc., 16 Civ. 7308, 2018 WL 345111 (S.D.N.Y. Jan. 10, 2018) (denial of defendant's motion for prevailing party attorneys' fees under the Copyright Act)
Goldberger Co. v. Uneeda Doll Co., 16 Civ. 4630, 2017 WL 3098110 (S.D.N.Y. July 21, 2017) (denial of Rule 11 sanctions in trademark and false advertising case)
Fischer v. Forrest, 14 Civ. 1304 & 1307, 2017 WL 2992663 (S.D.N.Y. July 14, 2017), 2017 WL128705 (S.D.N.Y Jan 13, 2017) (granting motion to dismiss and motion for summary judgment on copyright, trademark, Digital Millennium Copyright Act and false advertising claims)
Crown Awards, Inc. v. Trophy Depot, Inc., 15 Civ. 1178, 2017 WL 564885 (S.D.N.Y. Feb. 13, 2017) (denial of Rule 11 sanctions in trademark and false advertising case)
Wu v. John Wiley & Sons, Inc., 14 Civ. 6746, 2015 WL 5254885 (S.D.N.Y. Sept 10, 2015) (copyright infringement claim re photographs in textbooks; statute of limitations and damage issues)
Denimafia Inc. v. New Balance Athletic Shoe, Inc., 12 Civ. 4112, 2014 WL 814532 (S.D.N.Y. Mar. 3, 2014) (trademark infringement)
Mahoney v. Sony Music Entertainment, 12 Civ. 5045, 2013 WL 491526 (S.D.N.Y. Feb. 11, 2013) (contractual royalty dispute)
Toto v. Sony Music Entertainment, 12 Civ. 1434, 2012 WL 6136365 (S.D.N.Y. Dec. 11, 2012) (contractual royalty dispute)
Wi-Lan, Inc. v. LG Elec., Inc., 10 Civ. 432, 2011 WL 3279075 (S.D.N.Y. Aug. 2, 2011) (patent infringement, claim construction)
All-Star Mktg. Group, LLC v. Media Brands Co., 10 Civ. 1764, 2011 WL 9381 (S.D.N.Y. Jan. 3, 2011) (statutory trademark damages)
Burberry Ltd. v. Euro Moda, Inc., 08 Civ. 5781, 2009 WL 4432678 (S.D.N.Y. Dec. 4, 2009) (statutory trademark damages)
Mowry v. Viacom Int'l, Inc., 03 Civ. 3090, 2005 WL 1793773 (S.D.N.Y. July 29, 2005) (summary judgment in copyright infringement action; no proof of access or striking similarity)
Revlon Consumer Prods. Corp. v. Estee Lauder Cos., 00 Civ. 5960, 2003 WL 21751833 (S.D.N.Y. July 30, 2003) (patent claim construction)
COURTS AND FORUMS:
United States Supreme Court
United States Court of Appeals for the Second Circuit
United States Court of Appeals for the Third Circuit
United States Court of Appeals for the Fourth Circuit
United States Court of Appeals for the Fifth Circuit
United States Court of Appeals for the Sixth Circuit
United States Court of Appeals for the Seventh Circuit
United States Court of Appeals for the Eighth Circuit
United States Court of Appeals for the Ninth Circuit
United States Court of Appeals for the Tenth Circuit
United States Court of Appeals for the Eleventh Circuit
United States Court of Appeals for the Federal Circuit
United States District Court for the Southern District of New York
United States District Court for the Eastern District of New York
PROFESSIONAL MEMBERSHIPS:
SDNY-EDNY Local Rules Committee – Co-Chair
Second Circuit Federal-State Judicial Council
Sedona Conference Working Group 1 (Electronic Discovery) Steering Committee
Legaltech Educational Advisory Board
CIVIC:
Baker Street Irregulars and other Sherlock Holmes societies
Mystery Writers of America, Inc. – former national Executive Vice President; former President and New York Chapter Board of Directors member
Duke Law School Board of Visitors
CLERKSHIPS:
The Honorable Paul Roney, United States Court of Appeals for the Eleventh (then Fifth) Circuit, 1977-1978
RECOGNITIONS:
Law Technology News – Champion of Technology Award, 2011
Electronic Discovery Institute – Judicial Leadership Award, 2013
Zapproved Pinnacle Award (for providing direction on how to handle the rapidly changing demands of electronic discovery in civil litigation, January 30, 2018
American Lawyer Judicial E-Discovery Innovator, on its list of the Top 50 Innovators of the Last 50 Years
SELECT ARTICLES AND OTHER PUBLICATIONS:
Search, Forward:  Will manual document review and keyword searches be replaced by computer-assisted coding?,  Law Technology News, Oct. 2011
Foreword, A Survey of Emerging Issues in Electronic Discovery, 26 Regent Univ. L. Rev. 1 (2013-14)
E-Discovery:  Where We've Been, Where We Are, Where We're Going, 12 Ave Maria L. Rev. 1 (2014) (with Magistrate Judge John Facciola and Steven Teppler)
The Sedona Conference Commentary on Protection of Privileged ESI, 17 Sedona Conf. J. 95 (2015) (Judicial Participant)
The Sedona Conference TAR Case Law Primer, 18 Sedona Conf. J. 1 (2017) (Judicial Observer)
The Sedona Principles, Third Edition, 19 Sedona Conf. J. 1 (2018) (Judicial Participant and Editorial Style Committee member)
Foreword, Perspectives on Predictive Coding (edited by Jason Baron, Ralph Losey and Michael Berman), American Bar Association 2016
The Sedona Conference Federal Rule of Civil Procedure 34(b)(2) Primer: Practice Pointers for Responding to Discovery Requests, 19 Sedona Conf. J. 447 (2018) (Judicial Participant)
Creating Cooperation in Discovery:  Musings on Building Trust, N.Y.L.J., April 9, 2018 (with Dawson Horn and David Kessler)
Judge Andrew J. Peck, 1 of E-Discovery's Most Influential Figures, Retires from the Branch, by Ian Lopez, N.Y.L.J., March 5, 2018
REPRESENTATIVE SPEAKING ENGAGEMENTS 2018:
Keynote Judicial Panel and 2 other panels, Legal Tech New York, January 31, 2018
Panelist, American Bar Association Fair Labor Standards Legistlation Committee Midwinter Meeting, Nassau, Bahamas, February 21-23, 2018
Panelist, From Da Silva Moore to Microsoft:  A Program Honoring Judge Peck and Judge Francis on the Occasion of Their Retirement From the Bench, Cardozo Law School, February 28, 2018
Panelist, The Sedona Conference Institute, Nashville, TN, March 1-2, 2018
Keynote Speakers, Arkfeld – ASU E-Discovery and Digital Evidence Conference, Phoenix, AZ, March 6-8, 2018
Panelist, American Bar Association Employment Rights and Responsibility Committee Midwinter Meeting, Clearwater Beach, FL, March 20-24, 2018
Panelist, Sandpiper Partners GDPR:  Impact Worldwide on Data Protection, Privacy, E-Discovery and Cybersecurity, New York, NY, April 24, 2018
Panelist, The Sedona Conference Mid-Year Meeting, Nashville, TN, May 3-4, 2018
Participant, Duke Law – EDRM Workshop on TAR & GDPR, Durham, NC, May 23-25, 2018
Keynote Speaker, Fresh Off the Bench – Judicial Perspective on E-Discovery, New York State Bar Association CLE Program at Yankee Stadium, Bronx, NY, June 12, 2018
Download Bio
inquiry+peck@fedarb.com