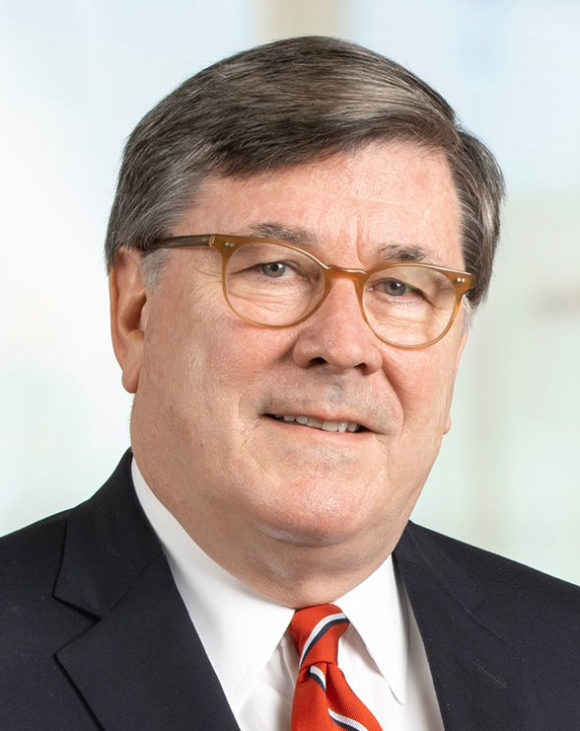 Judge Christopher F. Droney (Retired)

United States Court of Appeals for the Second Circuit
Arbitrator, Mediator, Mock Trials, Expert, Corporate Investigations, Special Discovery Master
Judge Christopher F. Droney served on the United States Court of Appeals for the Second Circuit from December 1, 2011 to December 31, 2019. Prior to his service on the Court of Appeals, he served as a United States District Judge for the District of Connecticut for fourteen years. Prior to that, he was the United States Attorney for the District of Connecticut from 1993 to 1997.
Judge Droney wrote many opinions for the Second Circuit and the District Court in areas including intellectual property, commercial litigation, insurance, real property disputes, ERISA, pensions, credit reporting law, RICO, antitrust, patents, False Claims Act, securities, class actions, employment discrimination, labor law, environmental law, as well as criminal and constitutional law.
Judge Droney also served on the United States Judicial Conference Committee for the Administration of the United States Bankruptcy System, and was on the board of directors of the Federal Judges Association. While United States Attorney, he was on the Attorney General's Advisory Committee of United States Attorneys and served as chair of its Civil Issues Subcommittee.
Judge Christopher F. Droney selected Circuit Court opinions:
Antitrust Cases:
In re Tribune Co. Fraudulent Conveyance Litigation, No. 13-3992-cv, 2019 WL 6971499 (2d Cir. Dec. 19, 2019) (Bankruptcy Code automatic stay provision bars state law constructive fraudulent conveyance claims)
Kaufman v. Time Warner, 836 F.3d 137 (2d Cir. 2016) (Droney, J. dissenting) (cable television subscribers had stated a tying antitrust claim under Sherman Act)
Lafaro v. New York Cardiothoracic Group, PLLC, 570 F.3d 471 (2d Cir. 2009) (no immunity for state-sponsored medical group without active supervision by state)
Employment Cases:
32BJ North Pension Fund v. Nutrition Management Services Co., 935 F.3d 93 (2d Cir.2019) (employer's delinquent pension fund contributions not subject to collective bargaining interest rate without explicit agreement)
Rodriguez v. Village Green Realty, Inc., 788 F.3d 31 (2d Cir. 2015) (ability to obtain shelter "major life activity" under Fair Housing Act)
Kalyanaram v. American Ass'n of Univ. Professors at New York Inst. Of Tech., Inc., 742 F.3d 42 (2d Cir. 2014) (litigation in state court did not toll duty of fair representation claim)
Martinez v. Bloomberg, 740 F.3d 211 (2d Cir. 2014) (employee bound to foreign forum selection clause)
Littlejohn v. City of New York, 795 F.3d 297 (2d Cir. 2015) (more liberal pleading standard for Title VII claims not deficient under Iqbal/Twombly decisions)
Insurance Cases:
Atlantic Specialty Ins. Co. v. Coastal Envtl. , Inc., No. 18-3236-cv, 2019 WL 6794814 (2d Cir. Dec. 13, 2019) (requirement of utmost good faith disclosure of risk under admiralty law ceases at time coverage bound)
Fireman's Fund Ins. Co. v. Great American Ins. Co. of New York, 822 F.3d 620 (2d Cir. 2016) (dry dock owner breached its duty of disclosure by failing to reveal deteriorated conditions in policy application)
Olin Corp. v. American Home Assur. Co., 704 F.3d 89 (2d Cir. 2012) (continuing coverage provision of policy required coverage of CERCLA spills)
Georgitsi Realty LLC v. Penn-Star Ins. Co., 702 F.3d 152 (2d Cir. 2012) (certification to New York Court of Appeals of question whether act directed at another property was covered by insured's policy)
Intellectual Property Cases:
Force v. Facebook, 934 F.3d 53 (2d Cir. 2019) (Facebook matchmaking algorithms immune from civil liability under anti-terrorism statutes)
Securities and Class Actions Cases:
Waggoner v. Barclays, 875 F.3d 79 (2d Cir. 2017) (lack of price impact had to be demonstrated by preponderance of evidence at class certification stage)
Roach v. T.L. Cannon Corp., 778 F.3d 401 (2d Cir. 2015) (individualized damages determinations insufficient to preclude class certification)
Cutrone v. Mortgage Elec. Registration Sys., Inc., 749 F.3d 137 (2d Cir. 2014) (removal of case to federal court timely under Class Acton Fairness Act when damages amount not specified)
Credit Suisse Sec. v. Tracy, 812 F.3d 2016 (2d Cir. 2016) (pre-dispute waivers of FINRA arbitral forum enforceable)
Education:
B.A., College of the Holy Cross, magna cum laude (1976);
J.D. University of Connecticut School of law (1979);
Honorary Degree in Law, University of Connecticut 2016.
[v2-4-7-21]
Download Bio
inquiry+droney@fedarb.com