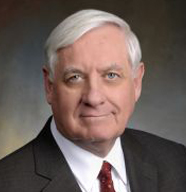 Judge Dennis M. Cavanaugh (Retired)

U.S. District Court, New Jersey
Arbitrator, Mediator, Discovery Master
Judge Dennis M. Cavanaugh served as a Judge of the United States District Court since 2000 and as a United States Magistrate Judge from January of 1993 to 2000. Judge Cavanaugh has had the opportunity to manage cases and conferences, assist in settlement and conduct trials of every type of civil and criminal matter that arises before the Federal Court.
Judge Dennis Cavanaugh began his career as a law clerk for Judge Francis Hayden of the New Jersey Superior Court before spending three years as an Assistant Deputy Public Defender in the New Jersey Public Advocate's Office from 1973 to 1977. In 1977, he entered private practice until his appointment as a Federal Magistrate Judge in 1993. Prior to his appointment, he was a Certified Civil Trial Attorney. His entire legal career consisted of the management and eventual trial, if necessary, of civil and to a lesser extent criminal matters. He was appointed U.S. District Judge by President Clinton in September 2000, where he served until he retired in January 2014. During his tenure on the bench, he authored numerous published and non-published opinions.
Judge Dennis Cavanaugh capitalizes on his vast legal experience in personal injury litigation, commercial litigation, environmental law, the law against discrimination, intellectual property, ERISA issues, and collective bargaining disputes, to serve the legal community as an experienced Mediator, skilled Arbitrator, and Discovery Master.
Download Bio
inquiry+cavanaugh@fedarb.com