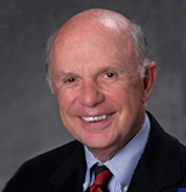 Judge Frank W. Bullock, Jr. (Retired)

U.S. District Court, Middle District of North Carolina
Arbitrator & Mediator
Judge Frank W. Bullock was appointed to the federal bench in 1982 by President Ronald Reagan, becoming one of the youngest federal judges in the country. He served 24 years as a United States District Court Judge in North Carolina, including seven years as Chief Judge. In that role, he revamped the civil case management structure for his district, reducing the backlog and time-to-trial statistics to among the best in the country.
During his time on the bench, Judge Bullock had three significant civil rulings affirmed by the U.S. Supreme Court, including his decision in the landmark Brooke Group antitrust case. In addition to numerous antitrust and environmental cases, Judge Bullock presided over many cases of national significance, including class action lawsuits, product liability matters, aviation disasters, federal securities law litigation, employment discrimination, and patent and trademark disputes.
He frequently sat by designation on the United States Court of Appeals for the Fourth Circuit, where he authored opinions in a wide variety of cases, including those dealing with civil rights, campaign finance and attorneys' fees.
Judge Bullock was a civil litigator for 13 years before going on the bench and was also the State of North Carolina Court Administrator from 1968 to 1973. Upon graduation from law school, he served a year as a law clerk to a federal judge.
Judge Frank Bullock's ADR Experience:
Judge Bullock has served on over 200 arbitrations and mediations, including service as a single arbitrator and as a member of international panels applying the patent and business laws of China, Japan, Australia, England and Wales with case values of over $500 million. His experience also includes antitrust, unfair trade practices, air crash insurance, wage and hour collective actions, employment discrimination, energy exploration and supply contracts, construction, securities regulation and Thoroughbred horse racing. He has consulted with national and international firms in major trial preparation and appeals, including appeals to the United States Supreme Court.
He is a frequent lecturer at CLE programs around the country, including the ADR section of Lex Mundi, the CPR annual meeting, the National Employment Law Workshop of the ABA, and the annual National Conference on Equine Law.
He was a member of the Standing Committee on the Rules of Practice and Procedure of the Judicial Conference of the United States, 1996-2003 and is a former chair of Continuing Legal Education Programs for Judges in the Fourth Circuit.
Judge Frank Bullock's Selected Cases:
Smith v. McDonald, 562 F. Supp. 829 (M.D.N.C 1983), aff'd, 737 F.2d 427 (4th Cir. 1984) (holding qualified immunity protection for those criticizing public officials), aff'd 472 U.S. 479 (1985).
Terry v. Teamsters Union, 676 F. Supp. 659 (M.D.N.C. 1987) (permitting jury trial of union members' claim against union), aff'd, 863 F.2d 334 (4th Cir. 1988), aff'd, 494 U.S. 558 (1990).
Brooke Group Ltd. (Liggett Tobacco) v. Brown & Williamson Tobacco, 748 F. Supp. 344 (M.D.N.C. 1990) (antitrust case involving pricing of cigarettes), aff'd, 964 F.2d 335 (4th Cir. 1992), aff'd, 509 U.S. 209 (1993).
Delaney v. Bartlett, 370 F. Supp. 2d 373 (M.D.N.C. 2004) (North Carolina statute requiring unaffiliated candidates to submit petition with signatures equal to 2% of registered voters in order to be placed on general election ballot violated their constitutional rights by requiring more signatures than required for candidates representing new political parties).
Alliance for Legal Action v. U.S. Army Corps of Engineers, et al., 314 F. Supp. 2d 534 (M.D.N.C. 2004) (challenge to environmental permits issued pursuant to the Federal Water Pollution Control Act allowing construction of Federal Express cargo hub at Piedmont Triad International Airport).
United States v. Duke Energy Corp., 278 F. Supp. 2d 619 (M.D.N.C. 2003) (emissions test for coal-fired electrical generating plants in North and South Carolina), aff'd 411 F.3d 539 (4th Cir. 2005), reversed _ US _ (2007).
Chris v. Tenet, 221 F.3d 648 (4th Cir. 2000) sitting by designation on the Court of Appeals (federal district court's jurisdiction to hear actions brought under Title VII of the 1964 Civil Rights Act not extend to independent actions to recover attorney's fees and costs incurred in administrative proceedings).
J. Reynolds Tobacco Co. v. Philip Morris, Inc. 199 F. Supp. 2d 362 (M.D.N.C. 2002) (tobacco company's retail marketing program not an unreasonable restraint of trade nor monopolistic), aff'd 67 Fed. Appx. 810 (4th Cir. 2003).
In re Cree, Inc. Securities Litigation, 333 F. Supp. 2d 461 (M.D.N.C 2004) (allegations of securities fraud insufficient under Private Securities Litigation Reform Act). See also 2005 WL 1847004 ( M.D.N.C 2005) (allegations in amended complaint insufficient under PSLRA), aff'd, _ F.3d _ (4th Cir. 2007).
Judge Frank Bullock's Professional Activities:
Standing Committee on the Rules of Practice and Procedure of the Judicial Conference of the United States, 1996-2003
Former Chair, Continuing Legal Education Programs for Judges in the Fourth Circuit
Admitted to bar, 1963, North Carolina.
Member, Chartered Institute of Arbitrators; International Institute for Conflict Prevention & Resolution Panel of Distinguished Neutrals; American Arbitration Association; and Federal Arbitration, Inc.
Judge Frank Bullock's Education:
B.S. in Business Administration, 1961
LL.B., 1963, University of North Carolina, Chapel Hill
Judgeships:
U.S. District Court, Middle District of North Carolina
By designation, U.S. Court of Appeals, Fourth Circuit
Download Bio
inquiry+bullock@fedarb.com