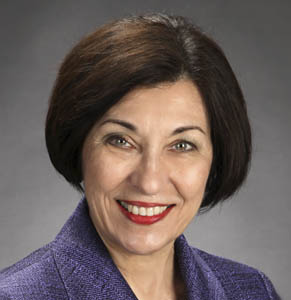 Judge Judith K. Fitzgerald (Retired)

U.S. Bankruptcy Court Western District of Pennsylvania
Arbitrator & Mediator
Judge Fitzgerald served as a United States Bankruptcy Judge in the Western District of Pennsylvania (1987-2013), and sat by designation in the District of Delaware (20 years), the Eastern District of Pennsylvania (8 years) and the U.S. Virgin Islands (9 years). She has the depth and breadth of experience dealing with complex commercial and insolvency matters, consumer lending and bankruptcy matters and conflicts of laws.
Judge Fitzgerald has hundreds of reported decisions in cases she adjudicated.   As a judge, she held hearings, status conferences and trials and adjudicated cases, negotiated settlements, addressed and decided discovery disputes.   She has also overseen the settlements in thousands of matters.  During her tenure on the bench, she handled more mass tort bankruptcies than any other sitting judge. Judge Fitzgerald began her legal career as a judicial law clerk (1973-1976) and then moved into litigating criminal and civil federal cases as an Assistant U.S. Attorney (1976-1987).
In her current capacity as Of Counsel with Tucker Arensberg, P.C., Judge Fitzgerald works in the Insolvency and Creditors' Rights Department.  She has been retained as an expert witness in a variety of insurance, commercial and financial disputes and regularly consults regarding bankruptcy substantive and procedural quandaries.  She has served as a court-appointed receiver, and has personal experience working through complex financial and political problems based on the divergent interests of multiple parties and state and federal agencies. She has served as a judge for moot summary judgment arguments including financial and ISDA matters and has successfully mediated complex issues.
Judge Fitzgerald recently re-joined the faculty of the University of Pittsburgh School of Law and holds the title of Professor of Practice. While on the bench she was an adjunct professor and taught Bankruptcy (basic and advanced) for over ten years.  Through June 2015, she was a tenured Professor of Law at the Indiana Tech Law School.   She has taught Contracts, Commercial Transactions and a variety of Bankruptcy courses, and is preparing to teach Remedies and other subjects.  Judge Fitzgerald graduated from Pitt's School of Law in 1973 with a J.D.  Her undergraduate degrees were also conferred by the University of Pittsburgh: a B.S. in Psychology and a B.A. in English Writing with a minor in Political Science.  She did some graduate work in International Relations Theory.  She was an Assistant Editor of the American Bankruptcy Law Journal, a peer-reviewed journal published by the National Conference of Bankruptcy Judges.
Her many awards and recognitions include her election as President of the National Conference of Bankruptcy Judges, her selection as Chair of several automation enhancement projects for the Administrative Office of the U.S. Courts, her receipt of "The Lawrence P. King Award for Distinction in the Field of Bankruptcy" and the designation of the title of an American Inn of Court that she co-founded as the "Judith K. Fitzgerald Bankruptcy American Inn of Court."
Areas of Expertise: commercial litigation and arbitration; bankruptcy and insolvency related matters; financial litigation; mass torts and related insurance disputes; contracts; fee disputes.
Selected Opinions:
In re Combustion Eng'g, 295 B.R. 459 (Bankr.D.Del.2003) (establishing principle of "insurance neutrality" for purposes of defining impairment), rev'd on other grounds, In re Combustion Eng'g, Inc., 391 F.3d 190, 209 (3d Cir. 2004), as amended (Feb. 23, 2005)
In re Flintkote Co., 486 B.R. 99 (Bankr. D. Del. 2012) aff'd sub nom. In re Flintkote Co., 526 B.R. 515 (D. Del. 2014) (plan confirmation – approving post-petition line of business as sufficient to meet on-going business requirement; standing to object)
In re W.R. Grace, 446 B.R. 96, 130 n. 58 (Bankr.D.Del.2011)(discussion of "future demand holder" for purposes of channeling injunction in mass tort asbestos case)
In re WorldClass Processing, Inc., 346 B.R. 132 (Bankr. W.D. Pa. 2006)( res judicata barred subsequent action by party alleging different position than that advanced in first proceeding)
In re Just For Feet, Inc., 299 B.R. 343 (Bankr. D. Del. 2003)(in bankruptcy of chain of superstores and smaller retail stores specializing in name brand athletic footwear and related apparel, late service of process led to dismissal of preference adversary complaints)
In re Fulcrum Direct, Inc., No. 98-1767, 2003 WL 1878070, at *1 (Bankr. D. Del. Apr. 14, 2003)(examining preference defenses asserted in response to action by leading catalogue retailer of apparel, shoes, etc.)
In re Peregrine Sys., Inc., 319 B.R. 800 (Bankr. D. Del. 2005)(Age Discrimination in Employment Act ("ADEA") claim against developer and manufacturer of software products for businesses)
In re Owens Corning, 291 B.R. 329 (Bankr. D. Del. 2003)(reformation of contract regarding price between manufacturer of plastic sheets and buyer)
In re Kaiser Aluminum Corp., Inc., No. 02-10429(JFK), 2004 WL 97658, at *3 (Bankr. D. Del. Jan. 16, 2004)(construing insurance policy and settlement agreement re distribution of proceeds after chemical plant explosion)
In re Fed.-Mogul Global Inc., 385 B.R. 560 (Bankr. D. Del. 2008) aff'd sub nom. In re Fed.-Mogul Global, 402 B.R. 625 (D. Del. 2009) aff'd sub nom. In re Fed.-Mogul Global Inc., 684 F.3d 355 (3d Cir. 2012)(federal preemption governs over anti-assignment or to consent to assignment provision in insurance policy and permits assignment of policies to asbestos trust)
In re W.R. GRACE & CO, 446 B.R. 96 (Bankr. D. Del. 2009)(plan's failure to provide interest at default rate on bank lenders' claims did not render these lenders "impaired")
In re Chestnut Ridge Plaza Associates, L.P., 156 B.R. 477, 483–85 (Bankr.W.D.Pa.1993)(restrictive covenants enforceable under applicable non-bankruptcy law survive a § 365(h) rejection and § 365(h)(2) limits damages available against a non-performing debtor)
Download Bio