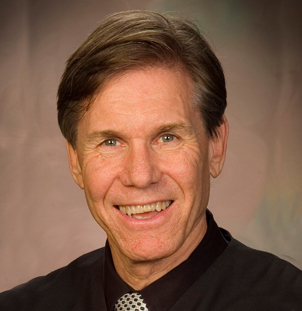 Judge Randall R. Rader (Former)

United States Court of Appeals for the Federal Circuit
Arbitrator, Mediator, Mock Trials, Expert
For over 25 years, Judge Rader has been a thought leader in the field of intellectual property law and jurisprudence. His work as Chief Judge, his publications and his work teaching patent law globally to students, judges and government officials has left an indelible mark on the field of IP law and the protection of IP rights throughout the world. Randall R. Rader was appointed to the United States Court of Appeals for the Federal Circuit by President George H. W. Bush in 1990 and assumed the duties of Chief Circuit Judge on June 1, 2010 and retired from the bench on June 30, 2014. He was appointed to the United States Claims Court (now the U. S. Court of Federal Claims) by President Ronald W. Reagan in 1988.
Judge Rader's most prized title may well be "Professor Rader." As Professor, Chief Judge Rader has taught courses on patent law and other advanced intellectual property courses at George Washington University Law School, University of Virginia School of Law, Georgetown University Law Center, the Munich Intellectual Property Law Center, and other university programs in Tokyo, Taipei, New Delhi, and Beijing. Due to the size and diversity of his classes, Chief Judge Rader may have taught patent law to more students than anyone else.
His experience both on the US Claims Court (later the Court of Federal Claims) and the Federal Circuit gave him cases and work with a multitude of energy contracts and issues. Handling cases with the disposal of nuclear waste, cases involving dams and electrical distribution, and cases involving pipelines. In addition, he had many environmental cases that had subsidiary energy issues, such as timber contracts and solar farms.
Judge Rader has also co-authored several texts including the most widely used textbook on U. S. patent law, "Cases and Materials on Patent Law," (St. Paul, Minn.: Thomson/West 3d ed. 2009) and "Patent Law in a Nutshell," (St. Paul, Minn.: Thomson/West 2007) (translated into Chinese and Japanese).
Judge Rader has won acclaim for leading dozens of government and educational delegations to every continent (except Antarctica), teaching rule of law and intellectual property law principles.
Judge Rader has received many awards, including the Sedona Lifetime Achievement Award for Intellectual Property Law, 2009; Distinguished Teaching Awards from George Washington University Law School, 2003 and 2008 (by election of the students); the Jefferson Medal from the New Jersey Intellectual Property Law Association, 2003; the Distinguished Service Award from the Berkeley Center for Law and Technology, 2003; the J. William Fulbright Award for Distinguished Public Service from George Washington University Law School, 2000; and the Younger Federal Lawyer Award from the Federal Bar Association, 1983.
Before appointment to the Court of Federal Claims, Chief Judge Rader served as Minority and Majority Chief Counsel to Subcommittees of the U.S. Senate Committee on the Judiciary. From 1975 to 1980, he served as Counsel in the House of Representatives for representatives serving on the Interior, Appropriations, and Ways and Means Committees. He received a B.A. in English from Brigham Young University in 1974 and a J.D. from George Washington University Law School in 1978.
Judge Randall Rader Selected Opinions:
Cornell Univ. v. Hewlett-Packard Co., 654 F. Supp. 2d 119, 2009 U.S. Dist. LEXIS 37046 (N.D.N.Y, 2009)
North Hartland, L.L.C. v. United States, 309 Fed. Appx. 389 (Fed. Cir. 2009)
Agilent Techs., Inc. v. Affymetrix, Inc., 567 F.3d 1366 (Fed. Cir. 2009)
Godfrey v. DOT, 356 Fed. Appx. 386 (Fed. Cir. 2009)
Nystrom v. Trex Co., 580 F.3d 1281 (Fed. Cir. 2009)
Edwards v. Shinseki, 582 F.3d 1351 (Fed. Cir. 2009)
Berliner, Corcoran & Rowe, LLP v. Orian, 370 Fed. Appx. 83 (Fed. Cir. 2009)
Source Search Techs., LLC v. LendingTree, LLC, 588 F.3d 1063 (Fed. Cir. 2009)
Cornell Univ. v. Hewlett-Packard Co., 2009 U.S. Dist. LEXIS 41408 (N.D.N.Y, May 15, 2009)
Killeen v. OPM, 558 F.3d 1318 (Fed. Cir. 2009)
Cornell Univ. v. Hewlett-Packard Co., 609 F. Supp. 2d 279(N.D.N.Y, Mar. 30, 2009)
O2 Micro Int'l Ltd. v. Taiwan Sumida Elecs., Inc., 315 Fed. Appx. 266 (Fed. Cir., March 5, 2009)
Univ. of Pittsburgh of the Commonwealth Sys. of Higher Educ. v. Varian Med. Sys., 352 Fed. Appx. 437 (Fed. Cir. 2009)
Eli Lily And Co. v. Teva Pharmaceuticals., 557 F.3d 1346(Fed. Cir. February 24, 2009)
Epistar Corp. v. ITC, 566 F.3d 1321 (Fed. Cir. May 22, 2009)
Rothman v. Target Corp., 556 F.3d 1310(Fed. Cir. February 13, 2009)
Abbott Labs. v. Sandoz, Inc., 566 F.3d 1282(Fed. Cir. May 18, 2009)
In re Kubin, 561 F.3d 1351(Fed. Cir. April 3, 2009)
Monolithic Power Sys. v. O2 Micro Int'l Ltd., 558 F.3d 1341(Fed. Cir. March 5,2009)
Takeda Pharm. Co. v. Doll, 561 F.3d 1372(Fed. Cir. April 10, 2009)
Tiger Team Techs., Inc. v. Synesi Group, Inc., 2009 U.S. App. LEXIS 29318 (Fed. Cir., Nov. 2, 2009)
In re Nintendo Co., 589 F.3d 1194 (Fed. Cir. 2009)
Jackson v. Shinseki, 587 F.3d 1106 (Fed. Cir. 2009)
Qingdao Taifa Group Co. v. United States, 581 F.3d 1375 (Fed. Cir. 2009)
Intellectual Sci. & Tech., Inc. v. Sony Elecs., Inc., 589 F.3d 1179 (Fed. Cir. 2009)
Rizzo v. Shinseki, 580 F.3d 1288 (Fed. Cir. 2009)
Carolina Power & Light Co. v. United States, 573 F.3d 1271 (Fed. Cir. 2009)
Dickson Indus., Inc. v. Patent Enforcement Team, L.L.C., 333 Fed. Appx. 514 (Fed. Cir. 2009)
People of Bikini v. United States, 554 F.3d 996 (Fed. Cir. 2009)
Singhal v. Mentor Graphics Corp., 328 Fed. Appx. 648 (Fed. Cir. 2009)
Research Corp. Techs. v. Microsoft Corp., 627 F.3d 859 (Fed. Cir. 2010)
In re Ceccarelli, 401 Fed. Appx. 553 (Fed. Cir. 2010)
Bormes v. United States, 626 F.3d 574 (Fed. Cir. 2010)
Nuance Communs., Inc. v. Abbyy Software House, 626 F.3d 1222 (Fed. Cir. 2010)
Biopolymer Eng'g v. Immunocorp, 397 Fed. Appx. 662 (Fed. Cir. 2010)
Extreme Networks, Inc. v. Enterasys Networks, Inc., 395 Fed. Appx. 709 (Fed. Cir. 2010)
Computer Cache Coherency Corp. v. Intel Corp., 395 Fed. Appx. 696 (Fed. Cir. 2010)
Ad Hoc Shrimp Trade Action Comm. v. United States, 618 F.3d 1316 (Fed. Cir. 2010)
Morse v. MSPB, 621 F.3d 1346 (Fed. Cir. 2010)
Eli Lilly & Co. v. Teva Pharms. USA, Inc., 619 F.3d 1329 (Fed. Cir. 2010)
Geo M. Martin Co. v. Alliance Mach. Sys. Int'l LLC, 618 F.3d 1294 (Fed. Cir. 2010)
In re DataTreasury Corp., 2010 U.S. App. LEXIS 16631 (Fed. Cir. Aug. 5, 2010)
Boehringer Ingelheim Int'l GmbH v. Mylan Pharms., Inc., 388 Fed. Appx. 992 (Fed. Cir. 2010)
In re Echostar Corp., 388 Fed. Appx. 994 (Fed. Cir. 2010)
In re Allvoice Devs. US LLC, 388 Fed. Appx. 996 (Fed. Cir. 2010)
Biopolymer Eng'g, Inc. v. Immunocorp, 390 Fed. Appx. 989 (Fed. Cir. 2010)
In re Paralyzed Veterans of Am., 392 Fed. Appx. 858 (Fed. Cir. 2010)
In re Apeldyn Corp., 391 Fed. Appx. 873 (Fed. Cir. 2010)
Kimberly-Clark Worldwide, Inc. v. First Quality Baby Prods., LLC, 388 Fed. Appx. 990 (Fed. Cir. 2010)
Ohio Willow Wood Co. v. Thermo-Ply, Inc., 391 Fed. Appx. 871 (Fed. Cir. 2010)
In re Giacomini, 612 F.3d 1380 (Fed. Cir. 2010)
Telcordia Techs., Inc. v. Cisco Sys., 612 F.3d 1365 (Fed. Cir. 2010)
Silicon Graphics, Inc. v. ATI Techs., Inc., 607 F.3d 784 (Fed. Cir. 2010)
Rolls-Royce, PLC v. United Techs. Corp., 603 F.3d 1325 (Fed. Cir. 2010)
Oracle Corp. v. Parallel Networks, LLC, 375 Fed. Appx. 36 (Fed. Cir. 2010)
Gallant Ocean (Thail.) Co. v. United States, 602 F.3d 1319 (Fed. Cir. 2010)
Crash Dummy Movie, LLC v. Mattel, Inc., 601 F.3d 1387 (Fed. Cir. 2010)
Hornback v. United States, 601 F.3d 1382 (Fed. Cir. 2010)
In re Suitco Surface, Inc., 603 F.3d 1255 (Fed. Cir. 2010)
Nucor Corp. v. United States, 601 F.3d 1291 (Fed. Cir. 2010)
Pressure Prods. Med. Supplies v. Greatbatch Ltd., 599 F.3d 1308 (Fed. Cir. 2010)
Trading Techs. Int'l, Inc. v. eSpeed, Inc., 595 F.3d 1340 (Fed. Cir. 2010)
Univ. of Pittsburgh of the Commonwealth Sys. of Higher Educ. v. Varian Med. Sys., 2010 U.S. App. LEXIS 6571 (Fed. Cir. Feb. 24, 2010)
Crocs, Inc. v. ITC, 598 F.3d 1294 (Fed. Cir. 2010)
SEB S.A. v. Montgomery Ward & Co., 594 F.3d 1360 (Fed. Cir. 2010)
Wyeth v. Kappos, 591 F.3d 1364 (Fed. Cir. 2010)
IP Innovation L.L.C. v. Red Hat, Inc., 2010 U.S. Dist. LEXIS 145350 (E.D. Tex. Oct. 13, 2010)
IP Innovation L.L.C. v. Red Hat, Inc., 2010 U.S. Dist. LEXIS 145351 (E.D. Tex. Oct. 13, 2010)
IP Innovation L.L.C. v. Red Hat, Inc., 2010 U.S. Dist. LEXIS 139920 (E.D. Tex. Sept. 20, 2010)
ClearValue, Inc. v. Pearl River Polymers, Inc., 704 F. Supp. 2d 584 (E.D. Tex. 2010)
IP Innovation L.L.C. v. Red Hat, Inc., 705 F. Supp. 2d 692 (E.D. Tex. 2010)
Performance Pricing, Inc. v. Google Inc., 704 F. Supp. 2d 577 (E.D. Tex. 2010)
PA Advisors, Inc. v. Google, Inc., 706 F. Supp. 2d 739 (E.D. Tex. 2010)
IP Innovation L.L.C. v. Red Hat, Inc., 705 F. Supp. 2d 687 (E.D. Tex. 2010)
Ip Innovation L.L.C. v. Google Inc., 2010 U.S. Dist. LEXIS 146553 (E.D. Tex. Jan. 6, 2010)
In re Chicco United States, Inc., 429 Fed. Appx. 993 (Fed. Cir. 2011)
LeBlanc v. United States, 410 Fed. Appx. 323 (Fed. Cir. 2011)
Carpenter v. Shinseki, 424 Fed. Appx. 951 (Fed. Cir. 2011)
Juniper Networks, Inc. v. Shipley, 643 F.3d 1346 (Fed. Cir. 2011)
Ohio Willow Wood Co. v. Thermo-Ply, Inc., 2011 U.S. App. LEXIS 9183 (Fed. Cir. May 3, 2011)
Blair v. Shinseki, 423 Fed. Appx. 971 (Fed. Cir. 2011)
Horne v. Shinseki, 421 Fed. Appx. 962 (Fed. Cir. 2011)
Rasheed v. Shinseki, 424 Fed. Appx. 953 (Fed. Cir. 2011)
Green Edge Enters., LLC v. Rubber Mulch Etc., LLC, 450 Fed. Appx. 978 (Fed. Cir. 2011)
Unigene Labs., Inc. v. Apotex, Inc., 655 F.3d 1352 (Fed. Cir. 2011)
Genelink Biosciences, Inc. v. Colby, 423 Fed. Appx. 977 (Fed. Cir. 2011)
Therasense, Inc. v. Becton, Dickinson & Co., 649 F.3d 1276 (Fed. Cir. 2011)
Wellman, Inc. v. Eastman Chem. Co., 642 F.3d 1355 (Fed. Cir. 2011)
Juniper Networks, Inc. v. Shipley, 643 F.3d 1346 (Fed. Cir. 2011)
In re Riggs, 457 Fed. Appx. 923 (Fed. Cir. 2011)
Arlington Indus. v. Bridgeport Fittings, Inc., 632 F.3d 1246 (Fed. Cir. 2011)
Maher v. Shinseki, 448 Fed. Appx. 65 (Fed. Cir. 2011)
Palmer v. Shinseki, 421 Fed. Appx. 964 (Fed. Cir. 2011)
Kimberly-Clark Worldwide, Inc. v. First Quality Baby Prods., LLC, 660 F.3d 1293 (Fed. Cir. 2011)
Ultramercial, LLC v. Hulu, LLC, 657 F.3d 1323 (Fed. Cir. 2011)
Clark v. United States, 656 F.3d 1317 (Fed. Cir. 2011)
Star Sci., Inc. v. R.J. Reynolds Tobacco Co., 655 F.3d 1364 (Fed. Cir. 2011)
Unigene Labs., Inc. v. Apotex, Inc., 655 F.3d 1352 (Fed. Cir. 2011)
Celsis in Vitro, Inc. v. CellzDirect, Inc., 428 Fed. Appx. 987 (Fed. Cir. 2011)
Halseth v. Shinseki, 422 Fed. Appx. 894 (Fed. Cir. 2011)
Peterson v. Shinseki, 422 Fed. Appx. 895 (Fed. Cir. 2011)
Smith v. Shinseki, 421 Fed. Appx. 961 (Fed. Cir. 2011)
Alexander v. Shinseki, 421 Fed. Appx. 969 (Fed. Cir. 2011)
Kelley v. Shinseki, 421 Fed. Appx. 966 (Fed. Cir. 2011)
Rickett v. Shinseki, 421 Fed. Appx. 967 (Fed. Cir. 2011)
Bove v. Shinseki, 421 Fed. Appx. 965 (Fed. Cir. 2011)
Golden v. Shinseki, 424 Fed. Appx. 954 (Fed. Cir. 2011)
Shapiro v. Shinseki, 421 Fed. Appx. 968 (Fed. Cir. 2011)
Norman v. Shinseki, 424 Fed. Appx. 949 (Fed. Cir. 2011)
LMK Enters. v. Perma-Liner Indus., 423 Fed. Appx. 972 (Fed. Cir. 2011)
Lexion Med., LLC v. Northgate Techs., Inc., 641 F.3d 1352 (Fed. Cir. 2011)
Tyrues v. Shinseki, 631 F.3d 1380 (Fed. Cir. 2011)
Stephen Slesinger, Inc. v. Disney Enters., Inc., 702 F.3d 640 (Fed. Cir. 2012)
Presidio Components, Inc. v. Am. Tech. Ceramics Corp., 702 F.3d 1351 (Fed. Cir. 2012)
Mehaffy v. United States, 499 Fed. Appx. 18 (Fed. Cir. 2012)
King v. Shinseki, 700 F.3d 1339 (Fed. Cir. 2012)
Deere & Co. v. Bush Hog, LLC, 703 F.3d 1349 (Fed. Cir. 2012)
Superior Indus., LLC v. Thor Global Enters., 700 F.3d 1287 (Fed. Cir. 2012)
Butamax(TM) Advanced Biofuels, LLC v. Gevo, Inc., 486 Fed. Appx. 883 (Fed. Cir. 2012)
Tropp v. Conair Corp., 484 Fed. Appx. 568 (Fed. Cir. 2012)
Energy Transp. Group, Inc. v. William Demant Holding A/S, 697 F.3d 1342 (Fed. Cir. 2012)
Beer v. United States, 696 F.3d 1174 (Fed. Cir. 2012)
Laserfacturing, Inc. v. Old Carco Liquidation Trust, 494 Fed. Appx. 72 (Fed. Cir. 2012)
Sys. Application & Techs. v. United States, 691 F.3d 1374 (Fed. Cir. 2012)
Personalized Media Communs., LLC v. Scientific-Atlanta, Inc., 493 Fed. Appx. 78 (Fed. Cir. 2012)
MagSil Corp. v. Hitachi Global Storage Techs., Inc., 687 F.3d 1377 (Fed. Cir. 2012)
Nordisk v. Caraco Pharm. Labs., Ltd., 688 F.3d 766 (Fed. Cir. 2012)
Grober v. Mako Prods., 686 F.3d 1335 (Fed. Cir. 2012)
Kan. Gas & Elec. Co. v. United States, 685 F.3d 1361 (Fed. Cir. 2012)
GE v. ITC, 692 F.3d 1218 (Fed. Cir. 2012)
Dominion Res., Inc. v. United States, 681 F.3d 1313 (Fed. Cir. 2012)
Mintz v. Dietz & Watson, Inc., 679 F.3d 1372 (Fed. Cir. 2012)
3m Co. v. Mohan, 482 Fed. Appx. 574 (Fed. Cir. 2012)
Yankee Atomic Elec. Co. v. United States, 679 F.3d 1354 (Fed. Cir. 2012)
Sturdivant v. Shinseki, 480 Fed. Appx. 992 (Fed. Cir. 2012)
In re Breiner, 468 Fed. Appx. 989 (Fed. Cir. 2012)
Klein-Becker United States, LLC v. Englert, 2012 U.S. App. LEXIS 11700 (Fed. Cir. May 2, 2012)
Brown v. Suburban Life Publ'g, LLC, 468 Fed. Appx. 988 (Fed. Cir. 2012)
Civix-DDI, LLC v. Hotels.com GP, LLC, 2012 U.S. App. LEXIS 8867 (Fed. Cir. May 1, 2012)
Hager v. Sec'y of HHS, 2012 U.S. App. LEXIS 8865 (Fed. Cir. May 1, 2012)
In re Amazon.com Inc., 478 Fed. Appx. 669 (Fed. Cir. 2012)
Tyrues v. Shinseki, 467 Fed. Appx. 889 (Fed. Cir. 2012)
Chandler v. Shinseki, 676 F.3d 1045 (Fed. Cir. 2012)
Duncan v. Dep't of the Air Force, 674 F.3d 1359 (Fed. Cir. 2012)
Razo v. Shinseki, 465 Fed. Appx. 974 (Fed. Cir. 2012)
J.P. Donovan Constr., Inc. v. Mabus, 469 Fed. Appx. 903 (Fed. Cir. 2012)
Digital-Vending Servs. Int'l, LLC v. Univ. of Phoenix, Inc., 672 F.3d 1270 (Fed. Cir. 2012)
Fitzsimmons v. Dep't of Treasury, 476 Fed. Appx. 246 (Fed. Cir. 2012)
Pac. Gas & Elec. Co. v. United States, 668 F.3d 1346 (Fed. Cir. 2012)
Crewzers Fire Crew Transp., Inc. v. United States, 464 Fed. Appx. 866 (Fed. Cir. 2012)
Sys. Fuels v. United States, 457 Fed. Appx. 930 (Fed. Cir. 2012)
Abbott Point of Care, Inc. v. Epocal, Inc., 666 F.3d 1299 (Fed. Cir. 2012)
Celsis in Vitro, Inc. v. CellzDirect, Inc., 664 F.3d 922 (Fed. Cir. 2012)
EMD Millipore Corp. v. AllPure Techs., Inc., 2013 U.S. App. LEXIS 24885 (Fed. Cir. Dec. 16, 2013)
Aevoe Corp. v. Ae Tech Co., Ltd., 2013 U.S. App. LEXIS 8540 (Fed. Cir. Apr. 26, 2013)
Lost Tree Vill. Corp. v. United States, 707 F.3d 1286 (Fed. Cir. 2013)
Synqor, Inc. v. Artesyn Techs., Inc., 709 F.3d 1365 (Fed. Cir. 2013)
Max Impact, LLC v. Sherwood Group, Inc., 2013 U.S. App. LEXIS 8539 (Fed. Cir. Apr. 26, 2013)
Entergy Nuclear Fitzpatrick, LLC v. United States, 711 F.3d 1382 (Fed. Cir. 2013)
W.C. v. Sec'y of HHS, 704 F.3d 1352 (Fed. Cir. 2013)
Parks v. Shinseki, 716 F.3d 581 (Fed. Cir. 2013)
Schwendimann v. Arkwright Advanced Coating, Inc., 506 Fed. Appx. 995 (Fed. Cir. 2013)
Edwards v. Shinseki, 547 Fed. Appx. 998 (Fed. Cir. 2013)
Northwest Farm Credit Servs., FLCA v. Hirsch, 547 Fed. Appx. 993 (Fed. Cir. 2013)
Escobar v. Shinseki, 527 Fed. Appx. 953 (Fed. Cir. 2013)
Cameron v. United States, 550 Fed. Appx. 867 (Fed. Cir. 2013)
In re Shelbyzyme LLC, 547 Fed. Appx. 1001 (Fed. Cir. 2013)
In re Redline Detection, LLC, 547 Fed. Appx. 994 (Fed. Cir. 2013)
Rambus Inc. v. Rea, 527 Fed. Appx. 902 (Fed. Cir. 2013)
Ceats, Inc. v. Cont'l Airlines, Inc., 526 Fed. Appx. 966 (Fed. Cir. 2013)
Comaper Corp. v. Antec, Inc., 539 Fed. Appx. 1000 (Fed. Cir. 2013)
Douglas Dynamics, LLC v. Buyers Prods. Co., 717 F.3d 1336 (Fed. Cir. 2013)
Aria Diagnostics, Inc. v. Sequenom, Inc., 726 F.3d 1296 (Fed. Cir. 2013)
Motorola Mobility, LLC v. ITC, 737 F.3d 1345 (Fed. Cir. 2013)
Leo Pharm. Prods. v. Rea, 726 F.3d 1346 (Fed. Cir. 2013)
Cheese Sys. v. Tetra Pak Cheese & Powder Sys., 725 F.3d 1341 (Fed. Cir. 2013)
Novozymes A/S v. Dupont Nutrition Biosciences APS, 723 F.3d 1336 (Fed. Cir. 2013)
Broadcom Corp. v. Emulex Corp., 732 F.3d 1325 (Fed. Cir. 2013)
Versata Software, Inc. v. SAP Am., Inc., 717 F.3d 1255 (Fed. Cir. 2013)
Ultramercial, Inc. v. Hulu, LLC, 722 F.3d 1335 (Fed. Cir. 2013)
St. Jude Med. Cardiology Div., Inc. v. Volcano Corp., 2013 U.S. App. LEXIS 24622 (Fed. Cir. Dec. 11, 2013)
In re Vutec Corp., 547 Fed. Appx. 995 (Fed. Cir. 2013)
PHI Applied Physical Scis., Inc. v. McHugh, 2013 U.S. App. LEXIS 24624 (Fed. Cir. Dec. 11, 2013)
Wiley v. Office of Pers. Mgmt., 2013 U.S. App. LEXIS 24619 (Fed. Cir. Dec. 11, 2013)
Bennett Marine, Inc. v. Lenco Marine, Inc., 2013 U.S. App. LEXIS 24620 (Fed. Cir. Dec. 11, 2013)
Yangzhou Bestpak Gifts & Crafts Co. v. United States, 716 F.3d 1370 (Fed. Cir. 2013)
Consumer Watchdog v. Wis. Alumni Research Found., 753 F.3d 1258 (Fed. Cir. 2014)
Cardpool, Inc. v. Plastic Jungle, Inc., 564 Fed. Appx. 582 (Fed. Cir. 2014)
STC.UNM v. Intel Corp., 754 F.3d 940 (Fed. Cir. 2014)
Therasense, Inc. v. Becton, Dickinson & Co., 745 F.3d 513 (Fed. Cir. 2014)
Vederi, LLC v. Google, Inc., 744 F.3d 1376 (Fed. Cir. 2014)
Vaillancourt v. Becton Dickinson & Co., 749 F.3d 1368 (Fed. Cir. 2014)
StoneEagle Servs. v. Gillman, 746 F.3d 1059 (Fed. Cir. 2014)
Trebro Mfg. v. FireFly Equip., LLC, 748 F.3d 1159 (Fed. Cir. 2014)
Tempo Lighting, Inc. v. Tivoli, LLC, 742 F.3d 973 (Fed. Cir. 2014)
Sacramento Mun. Util. Dist. v. United States, 566 Fed. Appx. 985 (Fed. Cir. 2014)
Marcum LLP v. United States, 753 F.3d 1380 (Fed. Cir. 2014)
CMS Contract Mgmt. Servs. v. Mass. Hous. Fin. Agency, 745 F.3d 1379 (Fed. Cir. 2014)
[9-26-21]
Download Bio
inquiry+rader@fedarb.com