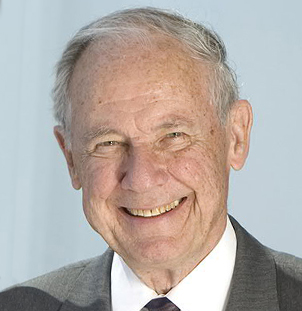 Judge Stephen N. Limbaugh, Sr. (Former) Emeritus

U.S. District Judge, Eastern and Western Districts of Missouri
Arbitrator & Mediator
Judge Limbaugh has had extensive experience in federal courts having served as a U. S. District Judge in the Eastern and Western Districts of Missouri from 1983 to 2008. During his 25 years as a federal judge, by designation, he has tried cases in Arkansas, Illinois, Iowa, and Texas and has set with the 5th, 8th and 11th Circuits. He engaged in the general practice of law in Cape Girardeau, Missouri from 1951 to 1983 trying cases in both state and federal courts and on appeal.
Near the end of World War II, at the age of 17, Limbaugh enlisted in the U.S. Navy and served for 18 months. He holds a B.A. in history from Southeast Missouri State University and a J.D. from the University of Missouri at Columbia, Missouri.
Judge Stephen Limbaugh was a member of the House of Delegates of the American Bar Association for four years and was President of the Missouri Bar in 1982. He is a member of the American Law Institute and has received numerous awards as a lawyer and judge. In 1982 he was listed in the First Edition of the Best Lawyers in America by Stevens Naifeh & Gregory White Smith in the field of Corporate Litigation in Missouri.
Judge Stephen Limbaugh Areas of Expertise:
Corporate, insurance, admiralty, personal injury, products liability, securities, labor and malpractice litigation.
Judge Stephen Limbaugh Selected Opinions:
Washington University v. Catalona, 437 F.Supp2d 985 (EDMo. 2006), aff'd 490 F3d 667 (8th Cir. 2007), cert denied 128 S.Ct. 1122 (2008) (ownership of tissue donated by patients for research).
Hicks v. St. Mary's Honor Center, 756 F.Supp. 1244 (EDMo. 1991), reversed 970 F2d 487 (8th Cir. 1992); 8th Cir. Reversed and case remanded in Mary's Honor Center v. Hicks, 509 US 502, 113 S.Ct. 2742, (125 L.Ed.2d 407(1993) (standard-employment discrimination).
Evans v. McClain of Georgia, Inc., 131 F.3rd 957 (11th Cir 1997) (by designation see concurring opinion) (employment discrimination).
Schneider National Transport v. Ford Motor Company, 280 F.3d 532 (5th Cir. 2002) (by designation) (insurance).
Peabody Holding Co., Inc. v. Costain Group, PLC, 808 F.Supp. 1425 (EDMo. 1992), 812 F.Supp. 1402 (EDMo. 1993) (contracts Australian coal mines).
In Re American Milling Company, 270 F.Supp.2d 1068 (EDMo. 2003), aff'd 409 F.3d 1005 (8th Cir. 2005) (admiralty).
National Football League v. McBee & Brunos, 621 F.Supp. 880 (EDMo. 1985), aff'd as modified 792 F.2d 726 (8th Cir. 1986) (copyright satellite interception).
Liddell v. Board of Education of City of St. Louis, 674 F.Supp. 687 (EDMo 1987) (school desegregation-capital improvements); 696 F.Supp. 444 (EDMo. 1988) (magnet school program).
Cuffley v. Mickes, 44 F.Supp.2d 1023 (EDMo. 1999) aff'd 208 F.3d 702 (8th Cir. 2000), cert. denied 121 S.Ct. 1225 (2001) (Klu Klux Klan's 1st amendment rights).
Eckelkamp v. Beste, 201 F.Supp.2d 1012 (EDMo. 2002) aff'd 315 F.3d 863 (8th Cir 2002) (ERISA).
Yapp v. Union Pacific R.R. Co., 229 FRD 608 (EDMo. 2005) (Class action – racial discrimination).
Download Bio
inquiry+limbaugh@fedarb.com