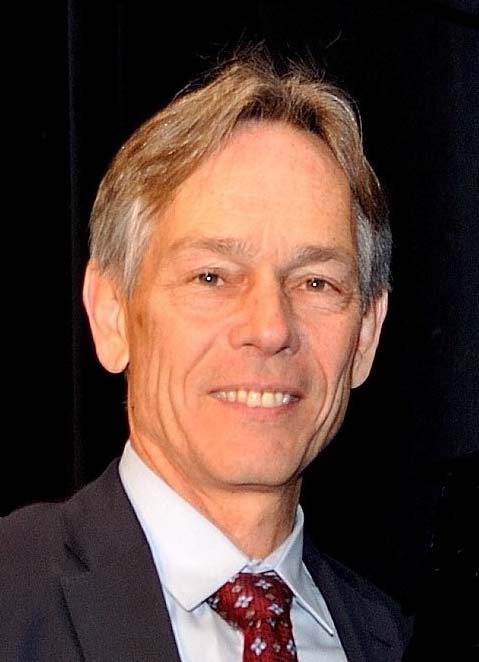 Justice Scott Bales (Retired)

Chief Justice Arizona Supreme Court
Arbitrator, Mediator, Mock Trials, Corporate Investigations
Hon. Scott Bales served on the Arizona Supreme Court for fourteen years, including as Chief Justice from July 2014 through July 2019. As a member of the Conference of Chief Justices, he served on its Board of Directors, chaired its Education Committee, and was a member of the Amicus Brief Review Team. Justice Bales also chaired the Appellate Judges Conference of the ABA's Judical Division. He currently chairs the ABA's Council for the Section on Legal Education and is a member of the Council of the American Law Institute.
Chief Justice Bales has received numerous awards for his work as a jurist, including the Arizona State Bar's James A. Walsh Outstanding Jurist Award (2019), the American Judges Association's Chief Justice Richard Holmes Award of Merit (2018), and the Judicial Management Institute's Ernest C. Friesen Award of Excellence (2018).
Before taking the bench, Chief Justice Bales practiced law for nearly twenty years as a private and public lawyer. He was a partner in Phoenix firms that later became Osborn Maledon P.A. and Lewis Roca Rothgerber Christie. He was Arizona's Solicitor General from 1999-2001, and he served as a Deputy Assistant Attorney General for the U.S. Department of Justice's Office of Policy Development, a federal prosecutor in the U.S. Attorney's Office in Phoenix, and a Special Investigative Counsel for the Justice Department's Inspector General. He authored briefs for scores of appeals, participated in 27 oral arguments before state and federal appellate courts, and was elected to the American Academy of Appellate Lawyers. He also worked on internal investigations for public and private clients, including the Arizona Senate, and on civil and criminal matters related to Arizona's tribal lands.
Justice Bales' broad ranging experience makes him exceptionally qualified to assist parties and their counsel by serving as an arbitrator or mediator, conducting moot courts, or participating in internal investigations.
Representative Matters:
While serving on the Arizona Supreme Court, Chief Justice Bales considered thousands of petitions for review, participated in nearly 500 merits decisions, and authored 120 opinions. Some examples are listed below.
CONTRACTS/TORTS:
Sanders v. Alger, 242 Ariz. 246, 394 P.3d 1083 (2017) (patient's duty of care to health care provider)
Sullivan v. Pulte Home Corp., 232 Ariz. 344, 306 P.3d 1 (2013) (application of economic loss doctrine in residential construction defect action)
Flagstaff Affordable Housing v. Design Alliance, 223 Ariz. 320, 223 P.3d 664 (2010) (application of economic loss doctrine to construction defect claim)
Gipson v. Kasey, 214 Ariz. 141, 150 P.3d 228 (2007) (identifying duties in tort law)
PROFESSIONAL LIABILITY:
In Re Sky Harbor Hotel Properties LLC, 246 Ariz. 531, 443 P.3d 21 (2019) (fiduciary duties for members and managers in limited liability company)
1800 Ocotillo v. The WLB Group, 219 Ariz. 200, 196 P.3d 222 (2008) (enforceability of loss limitation clause in professional services contract)
Webb v. Gittlen, 217 Ariz. 363, 174 P.3d 275 (2008) (assignment of professional negligence claims against insurance agent)
CIVIL PROCEDURE/EVIDENCE:
Kopp v. Physician Group of Arizona, 244 Ariz. 439, 421 P.3d 149 (2018) (claim preclusive effect of stipulated dismissal)
Baker v. University Physicians Healthcare, 231 Ariz. 379, 296 P.3d 42 (2013) (state statutory requirements for expert witness in medical malpractice action)
Preston v. Kindred Hospitals West, 226 Ariz. 391, 249 P.3d. 771 (2011) (requirement that action be prosecuted by real party in interest)
Cardona v. Kreamer/Lac Vieux, 225 Ariz. 143, 235 P.3d 1026 (2010) (application of Hague Service Convention)
Lake v. City of Phoenix, 222 Ariz. 547, 218 P.3d 1004 (2009) (application of public records law to metadata)
WATER LAW:
ADWR v. McClennen (Mohave County), 238 Ariz. 371, 360 P.3d 1023 (2015) (challenges to agency approval of transfer of water rights)
Davis/Chino Grande v. Agua Sierra Resources, 220 Ariz. 108, 203 P.3d 506 (2009) (reservation of groundwater rights upon sale of land)
Maricopa-Stanfield Irr. & Drainage Dist. v. Robertson, 211 Ariz. 485, 123 P.3d 1122 (2005) (water rights under state and federal law)
INSURANCE:
First American Title Ins. Co. v. Action Acquisitions, 218 Ariz. 394, 187 P.3d 1107 (2008) (coverage of title insurance policy)
Appellate cases in which Chief Justice Bales participated as an attorney include:
Bennett v. Napolitano, 206 Ariz. 520, 81 P.3d 311 (Ariz. 2003) (defending governor's exercise of veto powers)
American Greyhound Racing v. Hull, 305 F.3d 1015 (9th Cir. 2002) (defending governor's entry of tribal gaming compacts)
United States v. Johnson, 297 F.3d 845 (9th Cir. 2002) (defending appeal from convictions of six defendants resulting from 4 ½ month trial for telemarketing scheme)
FORMER POSITIONS:
Chief Justice, Arizona Supreme Court, 2014-19; Associate Justice, 2005-2014
Executive Director, Institute for the Advancement of the American Legal System, University of Denver, 2019-2020
Counsel and Partner, Lewis & Roca LLP, 2001-2005
Solicitor General, Office of the Arizona Attorney General, 1999-2001
Deputy Assistant Attorney General, Office of Policy Development, U.S. Department of Justice (on detail from U.S. Attorney's Office), 1998-1999
Special Investigative Counsel, Office of the Inspector General, U.S. Department of Justice (on detail from U.S. Attorney's Office), 1995-1998
Assistant United States Attorney, District of Arizona, 1995-1999
Associate and Partner, Meyer Hendricks Victor Osborn & Maledon P.A., 1985-1994
Law clerk to Justice Sandra Day O'Connor, U.S. Supreme Court, 1984-1985
Law clerk to Judge Joseph T. Sneed III, U.S. Court of Appeals for the Ninth Circuit, 1983-1984
Law clerk to Office of the Solicitor General, U.S. Department of Justice, 1983
ADMITTED TO PRACTICE:
EDUCATION:
J.D., Harvard Law School (Magna Cum Laude, 1983)
M.A., Economics, Harvard University (1980)
B.A., Economics and History, Michigan State University, (Summa Cum Laude, 1978)
SPEAKING ENGAGEMENTS:
Chief Justice Bales frequently serves as a panelist or speaker at conferences, judicial education programs, and law school classes. Examples include:
Judicial System Reform Ideas for Law School Deans and Jurists to Improve Public Trust and Confidence, National Judicial College, webinar, October 2020 (panelist)
Best Practices in Court Administration: What We Have Learned from COVID-19, Berkeley Judicial Institute, Berkeley Law School, webinar, June 2020 (panelist)
Views from the Bench, Bolch Judicial Institute, Duke Law School, Raleigh, September 2019 (panelist)
Pretrial Reform, National Center for State Courts Civil Justice Program, Journalist Law School, Loyola Law School, Los Angeles, June 2018 (panelist)
Judicial Leadership in Civil Justice Reform, Conference of Chief Justices Western Region Civil Justice Reform Summit, Park City, May 2017 (panelist)
Judges as Reform Leaders, MacArthur Foundation Safety and Justice Challenge Network Meeting, Seattle, October 2016 (panelist)
PUBLISHED WORKS:
Chief Justice Bales' published works include:
Is Sooner Sometimes Better than Later? Arizona's Early Bar Exam, Bar Examiner, March 2017
Two Presidents, Two Inaugurations, and the Course of Freedom, 45 U.C. Davis L. Rev. 261 (2011)
Justice Sandra Day O'Connor: No Insurmountable Hurdles, 58 Stan. L. Rev. 1705 (2006)
The Ninth Circuit: Should It Stay or Should It Go?, 34 U.C. Davis L. Rev. 379 (2000)
Turning the Microscope Back on Forensic Scientists, Litigation, Winter 2000
PROFESSIONAL AND COMMUNITY SERVICE:
American Law Institute, Member (elected 2007), Council, 2014-present
American Academy of Appellate Lawyers (elected 2004)
ABA Section on Legal Education and Admission to the Bar, Council, 2018-present; chair, 2020-present
Committee on Federal-State Jurisdiction to the Judicial Conference of the United States, 2015-2019
Appellate Judges Conference, ABA Judicial Division, Executive Committee, 2008-2016; chair 2014-2015
Arizona State University, Sandra Day O'Connor College of Law, Adjunct Professor
University of Arizona, James E. Rogers College of Law, Adjunct Professor
American Inns of Court Foundation, Board of Trustees, 2006-2010
Ninth Circuit Court of Appeals, Advisory Committee on Rules of Practice and Internal Operating Procedures, 2001-2005
Lawyer Representative, Ninth Circuit Judicial
[1-18-21]
Download Bio
inquiry+bales@fedarb.com