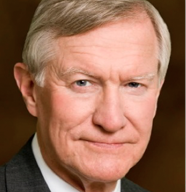 James M. Rhodes, Esq.

New York, New York
Arbitrator & Mediator
Jim Rhodes is an attorney admitted to practice in the States of New York and Texas. A litigator, arbitrator and mediator with extensive international and domestic experience, as well as experience as a business executive and house counsel, he has served as an arbitrator or mediator in commercial and investment disputes, particularly in the international sector. He specializes in high-conflict, complex disputes.
He is a former partner with Battle Fowler (now Paul Hastings LLP) and Coudert Brothers, where he was engaged in a litigation, arbitration and antitrust practice. While at Battle Fowler, he headed the firm's Antitrust and International Trade practice groups. As a partner at Coudert Brothers, Jim was also the firm's hiring partner for three years. Earlier in his career, he was an associate at Simpson Thacher & Bartlett, and a staff attorney with the Antitrust Division.
In addition to his legal career, Jim has a business background. He served as counsel and principal in several investment firms which were involved in the acquisition and disposition of commercial real estate properties and privately-held companies. He is Chairman of S. Gumpert Co. of Canada, Ltd., a privately-held, Canadian food company. From 1989 to 1992, Jim was President and General Counsel of Stanwich Financial Services, Inc., which was involved in the acquisition of portfolio assets from financial institutions.
Practice Areas:
Banking and financial services
Bankruptcy, liquidation, work-outs and restructuring
Breach of fiduciary duty
Contract disputes
Distribution, franchise and supply contracts;
Employment and partnership disputes
Licensing and intellectual property
International trade
Investment fraud
Mergers, acquisitions and joint ventures
Partnerships
Securities
Shareholders
Memberships:
AAA Commercial Panel
ICDR panel of international arbitrators
ICC Arbitration Panel
AAA Panel of Mediators
CPR Panels: Banking, Accounting and Financial Services, Franchise-Northeast, Cross-Border and New York City ADR
FedArb Panel of Participating Commercial Arbitrators
FINRA Board of Arbitrators
Arbitration Panel of the U. S. District Court for the EDNY
Roster of Mediators for the U.S. District Court for the EDNY
Roster of Neutrals for the Commercial Division ADR Program of the Supreme Court of the State of New York, New York County
Roster of Mediators for Civil, General Equity and Probate cases of the New Jersey courts.
Associations:
New York City Bar Association (International Commercial Disputes Committee, Committee on International Legal Practice, Construction Committee; formerly a member of the Arbitration Committee (two terms)
New York State Bar Association (Dispute Resolution, International Sections)
American Bar Association (Antitrust, Dispute Resolution, International Sections)
S. Council for International Business (USCIB/ICC Arbitration Committee)
Board of Advisors of the Institute for Transnational Arbitration
Advisory Board of the Center for Global Energy, International Arbitration and Environmental Law at the University of Texas School of Law
Founding member of The International Arbitration Club of New York
Advisory Committee on International Investment Law and Policy, Vale Columbia Center on Sustainable International Investment at Columbia Law School
Arbitration Experience:
Over a forty-plus year career Jim has served as advocate, chairman, co-panelist or sole arbitrator in many commercial, investment or securities arbitrations conducted under the rules of various institutions, including the ICC, AAA, FINRA and ICDR.
Mediation Experience:
In addition, during his career his practice has included work as mediator or advocate in mediation of commercial disputes.
Admissions:
New York (1971)
State Bar of Texas (1965)
U.S. Supreme Court
Court of Appeals for the 2nd Circuit
Court of Appeals for the Federal Circuit
Various U.S. District Courts
Select Publications:
Obtaining Evidence From Non-Parties in International Arbitration in the United States (The American Review of International Arbitration, Vol. 20, No. 4), New York City Bar Association International Commercial Disputes Committee, Member of Subcommittee that drafted the Report
Environmental Disputes Mediation: Public Construction Projects; New York State Bar Association Dispute Resolution Lawyer, Spring 2010, Vol. 3, No. 1
Obtaining Discovery in Aid of International Commercial Arbitration – Applicability and Best Practices, 28 U.S.C. 1782, NYCBA Committee on International Commercial Disputes, 2008, Member of Subcommittee that drafted the Report
E-Discovery & Securities Arbitration, Bloomberg Law Reports, Securities Arbitration, vol. 2, no. 11, December 2006
The Arbitrability of U.S. Antitrust Claims, The International Arbitration News, vol. 6, no. 1, Spring 2006
NAFTA Binational Panel Decisions, The International Lawyer Year in Review, 2005
The Pitfalls of International Commercial Arbitration, Vanderbilt Journal of Transnational Law, vol. 17, no. 1, Winter 1984
Recent Conferences and Presentations:
Program Faculty and Speaker: NYSBA Dispute Resolution Section Commercial Arbitration Training, Benjamin N. Cardozo School of Law, New York City, June 28-30, 2011
Program organizer and Speaker: Roundtable on Third Party Funding of International Arbitration: The Newest "New New Thing", NYSBA Dispute Resolution Section and Fordham University School of Law: Fordham Law School, New York City, June 15, 2011;
UNCITRAL Working Group III (Online Dispute Resolution), participating observer for New York City Bar Association, United Nations, New York, NY, May 23-27, 2011
Program Co-Chair and Panel Moderator: Topics in International Arbitration. 2011 Annual Meeting of New York State Bar Association Dispute Resolution Section, New York City, January 27, 2011
UNCITRAL Working Group on Arbitration and Conciliation, participating observer for the New York City Bar Association, United Nations, New York, NY, February 9-13, 2009
Panelist, Critical Junctures in Mediation and How Best to Handle Them, New York Marriott Marquis, January 29, 2009
Arbitrator, 14th Annual Willem C. Vis International Commercial Arbitration Moot, Vienna, Austria, March 30-April 5, 2007
Recent Mediation Training:
Mediation in the mainstream training, U.S. District Court for the EDNY, October 18, 2011
Negotiation training, American Arbitration Association, September 28, 2011
Cross Cultural Mediation, U. S. District Court, EDNY ADR Department, July 12, 2010
Conflict Resolution: ADR in the Private & Public Sectors, Benjamin N. Cardozo School of Law, November 5, 2009
Bridging Differences: ACRGNY Sixth Annual Conference, Benjamin N. Cardozo School of Law, June 26-27, 2008
CPR Mediation Training for Court Mediations, United States District Court, SDNY, June 28-29, 2007
Securities Arbitration & Mediation Hot Topics 2007, NYCBA, June 5, 2007
CDRCP NYC Advanced Mediation Training, New York, NY, January 5, 2007
Education:
Rice University, B.A. (1962)
University of Texas School of Law, J.D. (1965)
Download Bio
inquiry+rhodes@fedarb.com